The goal of "renovating management and improving education quality" for the new school year must be brought about by practical action plans, President Nguyen Minh Triet recently said.
His advice was given in a letter to educational managers, teachers and students nationwide on the official opening of the 2009-2010 school year, which starts September 5 for more than 22 million students.
Praising the education sector's great efforts in the past school year, the President said the sector had tried its best to overcome many difficulties to gain important achievements.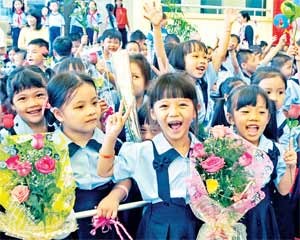 Students at Chau Van Liem Primary School, District 6, HCM City, welcome the new school year that officially starts September 5 (Photo: SGGP)
The education system has been expanded, many provinces and cities have made advances in the universalization of primary education, improved teaching methods and textbooks have been renovated, and scientific and technological advances have been applied in teaching and studying, he said.
As a result, the number of qualified teachers at all levels has increased and 
teaching quality and efficiency has been improved, especially in terms of morality, law and ideology, he said.
All these good performances have contributed to improving intellectual standards, strengthening citizens' education and created an improved skills base to serve the country's industrialization and modernization, President Triet noted.
The country needs to have more intellectuals and workers good at both professional skills and virtue, and the education sector plays an important role in meeting that need, he said. 
It must continue to implement the Party's and State's education policies and the orientation for educational development by 2020, he added.
He called on educational managers, teachers and students to promote their achievements, surmount their weaknesses, and launch movements to boost the quality of teaching and studying, in order to successfully perform tasks set for this school year, as well as in the years to follow.
One the day before the opening ceremony for the new school year, Party General Secretary Nong Duc Manh attended High school Son Tay in Hanoi, which has been one of the Top 100 high schools for the past several years.
He called on the school's teachers and students to make greater efforts to gain better results in renovating management and improving education quality, with focus put on "strict discipline, real quality and high efficiency."
The same day saw the Deputy Prime Minister and Minister of Education and Training, Nguyen Thien Nhan, visit the Dan Toc High School in northern Ha Giang Province, where he called on teachers and students to try their best to get along well in the new school year.
He presented the school with 330 uniforms, 1,000 reference book titles and a number of video cameras.
Meanwhile, Hoang Van Thu High School, in northern Lang Son Province, welcomed the visit of To Huy Rua, Politburo member, Secretary of the Party Central Committee and head of the Central Commission for Propaganda and Education.
Similarly, Ho Duc Viet, Politburo member, Secretary of the Party Central Committee and head of the Party Central Organization and Personnel Commission visited Quynh Luu 1 High School in central Nghe An Province; and the deputy chairman of the National Assembly, Nguyen Duc Kien, visited Thang Long Primary School in Hanoi.
In Ho Chi Minh City, where more than 1.2 million students enter the new school year, such schools as Nguyen Binh Khiem; Tran Dai Nghia and Nguyen Trai celebrated the new school year with the presence of People's Council chairwoman Pham Phuong Thao,  People's Committee standing deputy chairman Nguyen Thanh Tai, and People's Committee deputy chairman Hua Ngoc Thuan respectively.