Scientists and experts from the Vietnam Association for Engineering Geology and the Environment have firmly vetoed any danger to the base and foundation of the Song Tranh 2 Hydropower Plant dam, affirming it as safe and very secure.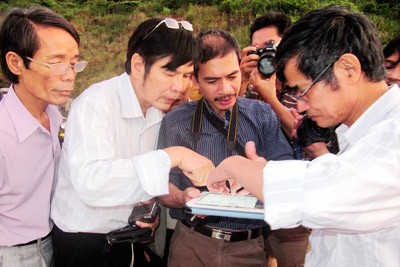 Team of scientists surveying the Song Tranh 2 Hydropower Plant (Photo: SGGP)
On November 9 the scientists made this categoric statement at a seminar hosted by the association, which was attended by about   200 scientists who were all unanimous with this conclusion.
The team of scientists had recently surveyed the Song Tranh 2 Hydropower Plant dam and their study of the terrain and grounds beneath the hydropower plant dam showed the existence of solid gneiss stone which is hard, tough and stable.
They also affirmed that there are no major fault lines cutting across the dam area. All the recent earthquakes occurring in the area have been educed by water accumulation in the reservoir. The strongest intensity quake measured 4.6 on the Richter scale on October 22 this year.
Phan Trong Trinh, chairman of the Vietnam Association for Tectonics, said that the foundation of the plant's dam is located on an area composed of solid gneiss stone which has high endurance and resistance.
Nguyen Van Tuc, head of the Institute of Water and Environment, said that there are no major fault lines running across the dam area either. However there are some minor fault lines on the bed of the plant reservoir. These could have been the reason for the earthquakes that have been occurring.
In agreement with the scientists, Nguyen Xuan Bao, from the Ho Chi Minh City Geology Association, said that the terrain is indeed complex and had not been carefully studied before, which led to the unexpected phenomena of a series of quakes for which the residents and relevant authorities were least prepared for.
He suggested that scientists maintain caution before firmly stating the geological condition of the dam area. They should ensure that their statement will not cause contradictions and misunderstandings among the community or later stand to be refuted.