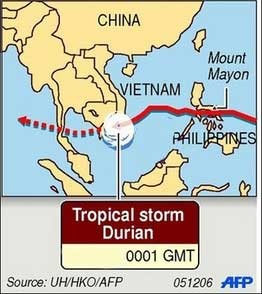 The path of the killer storm (Photo: AFP)
The worst storm to hit southern Viet Nam in nine years has killed at least 50 people, left hundreds of fishermen unaccounted for and destroyed thousands of homes from Binh Thuan to Vinh Long.
Typhoon Durian, which had earlier killed hundreds in the Philippines, flattened or damaged 18,400 houses and sank 860 fishing boats by 3 pm today, Viet Nam's storm and flood protection committee said on Tuesday.
Besides the 50 confirmed deaths, 19 people are known to be missing but there is fear that the death toll will rise substantially as fishing crews fail to return to land.
At least 23 people were killed and 16 are missing in Ba Ria-Vung Tau Province, 125 kilometers southeast of Ho Chi Minh City. Two people were reported dead in Binh Thuan Province, 10 in Ho Chi Minh City's Can Gio District, two in Tien Giang Province, 16 in Ben Tre Province and four in Vinh Long Province.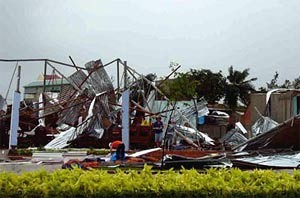 Houses damaged in Vung Tau (Photo: VietNamNet)
The coastal town of Vung Tau lost all water and power supplies early on Tuesday. The provincial government has allocated VND3 million (US$187) for each family with a death and VND1 million with an injury.
In Ben Tre at the mouth of the Mekong Delta, almost 11,000 houses were razed to the ground and over 69,000 houses lost their roofs to the gale-force winds. Many crops and orchards were also damaged and, like in Vung Tau, the water supply across Ben Tre was cut off, as were the telephone lines.
Farther north, Binh Thuan Province's Phu Quy Island has reported property losses of VND350 billion (US$21.87 million). More than 820 fishing boats sank, some 2,000 homes were destroyed and 22 schools were damaged.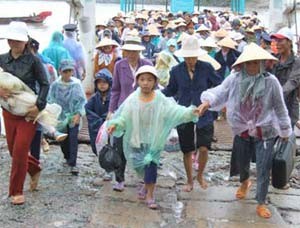 Residents evacuate a typhoon-hit area of Tien Giang Province (Photo: VietNamNet)
Emergency relief for the victims is being sent to the island. About one-third of the Phu Quy's residents have lost their homes, said Deputy Fisheries Minister Nguyen Viet Thang, who was on duty in Binh Thuan today.
The homeless people are taking shelter in public buildings, other people's houses and temporary quarters, Binh Thuan party chief Huynh Van Ti told reporters.
Thousands of fishing boats survived the storm by sheltering in Tra Vinh, Soc Trang, Bac Lieu and Ca Mau provinces, where they will remain until the seas have settled.
Two deputy prime ministers in charge of coordinating the emergency work, Mr. Nguyen Sinh Hung and Mr. Truong Vinh Trong, had warned provincial leaders in the morning not to underestimate the strength of the typhoon and ordered the evacuation of residents.
As Durian approached, the memory of Typhoon Linda was uppermost in their minds. On a fateful day in November 1997, the fiercest storm to strike the south in decades claimed 600 known deaths, left thousands never accounted for, and created instant villages of widows all along the southern coast.
In Ho Chi Minh City, the Fatherland Front Committee today launched a month-long campaign to collect emergency aid for the victims of Durian. Its office is located at 55 Mac Dinh Chi Street, District 1.
By Tuesday afternoon, the city's residents had donated more than VND2.6 billion in cash and kind.