Two sea dykes in the Mekong Delta province of Bac Lieu have been badly damaged by high tides, huge waves and strong winds, threatening the lives and properties of local residents.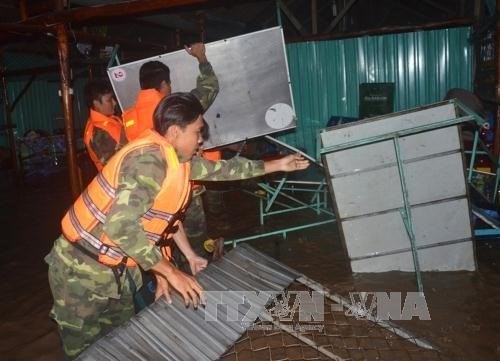 Border troops help people move their stuff after 20m of the ​Nha Mat sea dyke was breached in the Mekong Delta province of Bac Lieu (Photo: VNA)
In Bac Lieu city, huge waves and powerful winds at speeds of level 8-9 damaged about 20m of the dyke along Nha Mat Beach near Nha Mat Border Station, flooding many houses near it.
Pham Thi Lien, 63, a seafood seller at the beach, said: "At around 2am, while I and my son were sleeping, water rushed in. Many big waves buffeted our house. All the furniture in my house and motorbike was damaged. Hundreds of beers and other drinks, and tens of kilogrammes of fresh seafood were swept away."
Local authorities quickly moved all the affected people to safe places. Others living in the vicinity were put on notice about moving in case of need.
In Ganh Hao town huge waves damaged 20m of dyke at section G1, where it connects with the Ganh Hao River dyke.
The waves swept away a six-tonne cement block, damaged a part of Rach Vuot Bridge and caused many cracks in the sea dyke.
Seawater submerged streets and houses in the town as the tide rose.
The chairman of the provincial People's Committee, Duong Thanh Trung, ordered local authorities and border guards to take immediate measures to safeguard life and property.
Agricultural officials should closely monitor changes in tides along Ganh Hao and Nha Mat beaches to take proactive protective measures during periods of peak tides every month, he said.
Specific plans based on experts' advice would be drawn up to protect the areas from the sea, he said.
This has been the worst breach of the three times it has occurred since last year at the Ganh Hao dyke, which is 11 years old.
Last year large parts of the G1 section of the Ganh Hao dyke were damaged and have not been rebuilt yet.
Bac Lieu is one of provinces in the Mekong Delta affected by climate change.
The two sea dykes have an important role in protecting thousands of households and tens of thousands of hectares of coastal lands.