Deputy Minister of Agriculture and Rural Development (ARD) Vu Van Tam yesterday said that seafood caught from the waters beyond 20 nautical miles from the shore has been determined to be safe.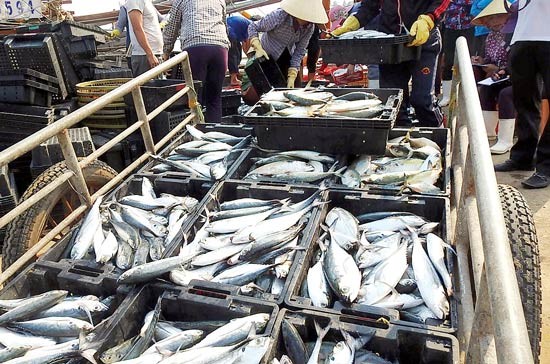 Fish caught from Hoang Sa (Paracel) Archipelago at Gianh Port, Quang Binh province (Photo: SGGP)
The ministry has guided local authorities to inspect the quality of seafood exploited in four central provinces, where have been affected by the huge dead fish incident and certify the products' origin, he said.
The safety of aquatic products caught in the area extending 20 nautical miles from the central coastline depends on observation results and forecasts by the Research Institute of Marine Fisheries and the actual situation in each province.
Local authorities and agencies under the ministries of ARD and Heath are responsible for supervising the quality of nearshore seafood products.
According to deputy minister Vu Van Tam, surveys by the ministry show that nearly 100 tons of fish have died and washed ashore so far. There has no statistics on the volume of dead fish sinking deep at the bottom of the sea. 
The Prime Minister has instructed the Ministry of Industry and Trade and businesses to help consume offshore aquatic products. Seafood farming has temporarily halted as locals have still waited for authorized agencies' guideline on how to take safe waters for their farms.
The Ministry of ARD yesterday sent four delegations to the four affected provinces to analyze seawater and dead fish samples.
Meantime, another delegation of seafood experts led by deputy head of the Fisheries Directorate Nguyen Ngoc Oai has been present in the region to guide locals to repair damage, resume production and stabilize their lives.
The ministry has tasked the Research Institute for Aquaculture No.1, the Institute for Agriculture Environment and the Research Institute for Marine Fisheries to identify the dead fish's causes. These will be transferred to the Ministry of Science and Technology and the Ministry of Natural Resources and Environment to make public announcement.