Twelve Vietnamese crew members kidnapped by Somalia pirates arrived back home after more than 18 months in captivity, on July 24.
Soon after arriving at Noi Bai International Airport, they cried with joy on seeing their relatives and loved ones, who were all waiting anxiously for them.
At about 4 pm, the flight from Bangkok (Thailand) brought the 12 crew members to Noi Bai International Airport. The men hurriedly cleared custom procedures, collected their baggage and ran out to the airport lobby to meet with their waiting relatives.
One of the seamen, Luu Dinh Son, from Thach Ngan Commune of Con Cuong District in Nghe An Province, had no relative waiting for him at the airport, so he immediately borrowed a hand phone to call his mother.
All the seamen were extremely tired and emotionally exhausted and were unable to speak much. Almost all of them refused to answer questions from journalists. Bui Van Hoa and Ho Xuan Huong only said one sentence, "We're so scared, and were waiting for the day to return home."
Reporters were present at Noi Bai International Airport from 2pm on July 24, to welcome and take photos of the returning crew members.
Relatives of the crew members however had been waiting at the airport all day.
The crew was held in captivity by Somali pirates for more than a year. Each member and their relatives were relieved to see them returned to Vietnam after so many months of waiting in deep anxiety.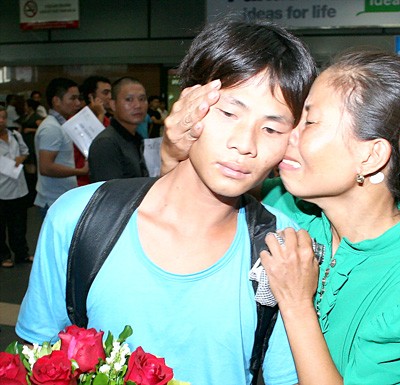 One of the crew members captured by Somalia pirates, in tears on meeting his relative
Ho Xuan Ngu said that three years ago he and his son used to fish together at sea. But because of financial difficulties in the family, and heavy debts, his son Ho Xuan Huong went to work abroad in November 2009.
After arriving in Taiwan (China), Huong went to work on board a shark fishing ship in the Indian Ocean.
After working on board for about one year, the Somalia pirates captured him and held him for more than 18 months. All this while his family members were unable to eat or sleep due to anguish and concern for Huong.
Nonetheless, Ngu had to go about his daily activities and continue to fish, to pay off debts.
Present at the Noi Bai International Airport to welcome the crew members, Nguyen Xuan Tao, Chief of Overseas Labor Management Department under the Ministry of Labor and Social Affairs, said that the employment company will support each crew member with VND1 million as a gift to go home.
The company will then liquidate their present contracts. It is worth noting that all throughout their ordeal the company continued to pay full wages to the seamen. The Department of Overseas Labor Management has directed the recruitment company in Taiwan to pay wages as per contract.