The Hanoi Department of Science and Technology has agreed to a proposal to study methods to heal wounds of the ancient turtle in Guom Lake in Hanoi.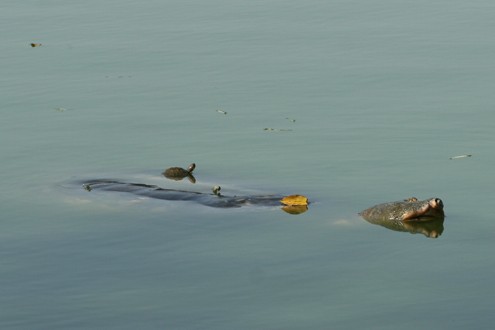 The ancient turtle pictured on the lake surface at 2pm, December 18, 2010 with a small red-eared turtle on the back. (Photo:Vietnamnet)
Recent photos of the legendary turtle in the Guom Lake in Hanoi showed a turtle that had been injured on the neck and back. Associate Professor Ha Dinh Duc, a famous scholar from Hanoi stated that scientists and other related departments will discuss what measures could be taken to heal the wounds of turtles on February 15.
It is the first time that researchers have meeting to discuss on how to take the turtle out of the water to heal its wounds.
Tragically, the numbers of turtles found floating on the lake has been increasing every year and in 2007 they were found floating 72 times which increased to 134 times in 2010.
Turtles hold a profound meaning and value in the Vietnamese culture, particularly the Guom Lake turtle. It is believed to be near extinction with only four said to be left in the world. Legend has it that after King Le Loi beat the Chinese in an invasion with a sacred sword found in Hoan Kiem Lake by a fisherman, he handed the sword to Kim Quy the turtle. In fact, the name of the lake means 'Returning Sword' in Vietnamese.