After analyzing water samples, the Ministry of Natural Resources and Environment has affirmed that seawater is within standards and safe for human activities in four north central provinces of Ha Tinh, Quang Binh, Quang Tri and Thua Thien-Hue, where huge volumes of fish have died with unknown reason recently.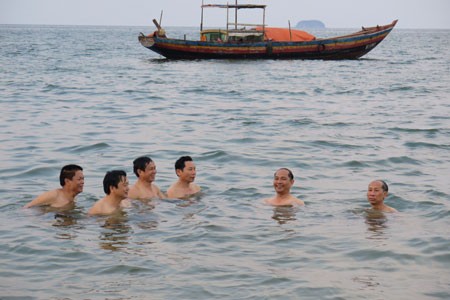 Leaders of Da Nang city swims in the sea to reassure the public after the central region's fish death on May 1 (Photo: SGGP)
Conducting an instruction by Minister Tran Hong Ha, the Vietnam Environment Administration has coordinated with provincial authorities to take and analyze coastal seawater samples twice a day from April 29 to May 6. Testing results show they meet national technical standards on seawater quality.
Continuing efforts to make clear the fish death, the minister on May 2 worked with scientists from Germany, the U.S. and Israel in fields including oceanography, coastal geology and marine environment.
At the meeting, foreign experts affirmed their consideration to the case and that they are willing to work with the Ministry of Science and Technology to investigate the reason of the environmental incident.
Prof. Roberto Mayerle, director of the Research and Technology Center of German Kiel University, said that if Vietnamese ministries agree, he will take more experts and equipment to Vietnam to help investigate the fish death and identity causes.
He believed that they and Vietnamese scientists will soon find out the causes if they head on the right direction with prompt sense.

Related article:
Central region leaders have fish dishes, swim in sea to assure public