New strange religions that sound very strange have appeared in Vietnam since 2009 such as Ha Mon, Vang Chu whose missionaries cheated their followers that they need only prayer for relieving bank debt and diseases. Their missionaries also grouped to overthrow the government. What is secret behind these religions?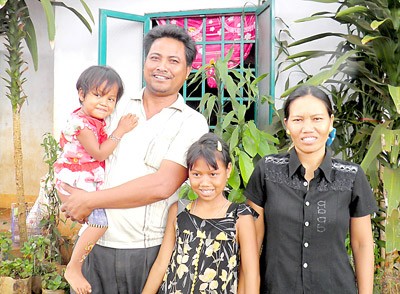 The filed photo shows Pe Luong posing photo together with his wife and children during meeting with Sai Gon Giai Phong reporters.
Sai Gon Giai Phong reporters have met with some people who regretted for following Ha Mon religion in Central High Land provinces.
Kon village in Dak lak province has 315 households and all of them follow the Christian. But some of them joined very strange activities such as praying during night.
Priest Nguyen Son said that he could recognize who followed Ha Mon religion because all they looked exhausted in morning praying session at village church.
They only implored the God for food, money, health but they did not work, the priest said.
They prayed night and day and did not relax hence their health was so affected that they could not go out for work, causing poverty and hungry, he added.
Residents told the reporters that woman who considered herself as the leader of the Ha Mon religion was "thay mo" (shaman) in the village.
After a night in 2009 Y Gyn, 70 years old, said that she dreamed Mother Maria sitting on her house roof and Mother said that she chose Y Gyn as Mother's missionary of Mother Maria's message to minority ethnic groups.
Y Gyn said that she was the leader of Ha Mon religion. She also named the religion after her hometown' name.
Because she created the religion by herself she issued rules for followers that required man or woman to devoice if wife or husband did not want to follow the religion. The rules also asked follower not to come to Common House of the village, not to play gongs- traditional musical instruments. So many gongs were destroyed by village's young people.
Y Gyn ruled that followers did not allowed to study, contact strange people and they did not need to pay bank debt they needed only pray for Mother Maria so the debt would be relief.
She also called on patients not to visit doctors. She said they needed only pray and diseases would automatically "bid farewell".
Behind some bizarre rules, she copied the Bible and used for her religion.
In a letter sent to Christian followers in Kon Tum province, Bishop Hoang Duc Oanh said that content of the Ha Mon religion's message was a confused copy of the Bible.
Many people trusted in Y Gyn because of ignorance. The religion made the small village on Sa Thay river poor and hungry because no one wanted to work, just focused on praying. They ignored their children for earning food in forests.
They waited for Mother Maria and prayed her for wealthy.
Pe Luong, 30 years old, said that he was chosen by Y Gyn to be her missionary when she came to his village. When SGGP reporters came to his house, his wife was too ill but she said she did not visit the doctor because Y Gyn advised them to just pray for health.
"I have drunk so much holy water but my diseases was critical day by day", she said.
I knew I was wrong when following Y Gyn", she said
I would like to tell people not to trust in Y Gyn more", she added.
Another man who followed Y Gyn and lives not far from Pe Luong' house also regretted for believing Y Gyn.
I was a leader of a rubber worker group and a deputy of Ea H'Ding ward People' Council and was chosen as a missionary because Y Gyn knew that I could convince people to trust in Ha Mon religion" said A Duitch.
"I leaved my family, my field to go with them. I even told my wife to sell rice and cattle, send money to A Tach- a missionary of Y Gyn", he said.
"I was too stupid and lost every thing. I am very sad now", he added.
A Duitch has a younger sister who also followed Ha Mon religion and has been believed to miss for a long time. But A Duitch said that she was hided in forests and a missionary of the religion because she was told that active Ha Mon followers would be picked up to the United States, so she was waiting for a trip to the country on the other side of Pacific Ocean.