When Sai Gon Giai Phong reporters visited village Huoi Khon, Nam Ke ward, Muong Nhe district in the northern province of Dien Bien a ragged hill in the village could still tell a story of a strange religion that cheated Hmong and caused several dead in the village.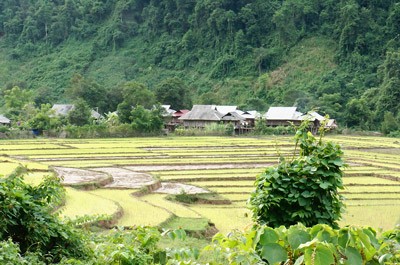 The filed photo shows new rice crop in Muong Nhe
One hundred percent of residents in Nam Ke are Hmong people and all of them follow the Protestant. But some Hmong people arriving there in May 2011 seduced Hmong people to join a religion so called Vang Chu.
They called on Hmong people to leave their home, their peaceful life and group in village Huoi Khon to wait for Hmong King coming back from abroad who was believed to help Hmong set up a state for Hmong people.
Mr Ly A Ham-who is in charge of personnel of the Protestant Church Committee in Nam Ke said that those who live far away from our homeland took advantages of Hmong people's faith in the God to cheat people.

How to set up a state in our lawful milpa where Hmong have lived since the old time, he added.
Many Hmong people among that was his daughter's family left their home after freeing their cattle and poultry to go to Huoi Khon village where they were told to wait for Hmong King and an angel named Vang Chu.
Ly A Ham prevented his daughter but she said that Vang Chu religion missionaries told her and others that Hmong King and angel Vang Chu would grant land, money, gold and cattle, poultry to Hmong.
I advised people not to follow missionaries because they were cheating Hmong people, he said.
Vang Chu is the way Hmong people explain the Protestant but adding more superstitious stories, he added.
"Vang Chu religion missionaries said that those who follow the religion would have enough food and their debt would be automatically relief if they have nonstop prayed for food and money and did not need to work".
"Many people followed bad guys to leave home. But when they came back their properties were stolen by bad guys".
Now they are falling in poverty and crying for Hmong King and angel Vang Chu but no angle or king can help them, he added.
Huoi Khon inhabitant Sung A Ky who witnessed days when thousands of Hmong people crowded in Khuoi Khon to wait for Hmong King and Vang Chu said that they destroyed all crops in the village for food, cut down trees to build huts and polluted the environment of the village.
Most of them came from the Central Highlands and Northern provinces such as Dak Lak, Dak Nong, lai Chau, Lao Cai, Ha Giang…, he said.
They used a loudspeaker for prayer and made noisy in the village for a long time.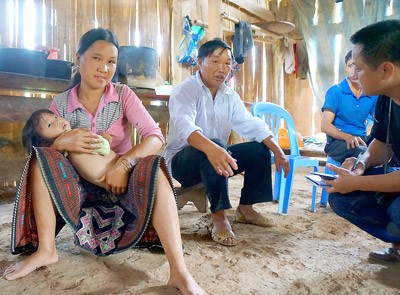 Sung Thi Sua (1st L) talks with Sai Gn Giai Phong reporters.
Three or four days later, most of Hmong arriving here were hungry and they had to eat bamboo shoots and forest trees. Only gang leaders had food to eat.
Children cried because they were hungry and some of them got fever, stomachache. Their parents came to "headquarters" of Vang Chu religion that was temporarily built for its leaders on the hill to ask for food and medicine for children. But Vang Chu religion missionaries told them to nonstop pray for what they need.
A starving pregnant woman was ready to give birth but they did not allow her to go to the emergency clinic of the village, just asked her and her husband to continuously pray. The infant was dead right after birth because of cool, hungry and unsafe sanitary conditions.
After the death of the infant, religion leaders escaped from the hill because no one trusted in them. However a group so called self-defense force blocked the path to the main road in the village.
Members of the group rumored that there would be a Great Flood and those who followed Vang Chu religion would be folded wings to fly to the sky; those who did not followed would be swept away by flood water and buried under ruins.
Because of ignorance about natural phenomena many Hmong people did not dare to flee.
When Hmong people saw local officials and police, probably they had never been happy like that before. Doctors saved life of hundreds of hungry and ill children who might be dead.
Ms. Sung Thi Sua who was on the grim hill at the time said she felt very afraid.
Children cried and screamed day and night, even some of them lied on ground like dead because of starvation, she said.
Luckily police and doctors came on time with food and medicine otherwise many children would die, she added.
Related Articles:
Secret behind strange religions in Vietnam