Security and defence are a great cause for the nation, said Party General Secretary Nong Duc Manh while visiting the National Defence Academy (NDA) on July 16.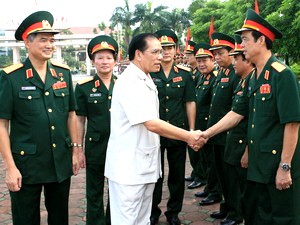 Party General Secretary Nong Duc Manh visits the National Defence Academy on July 16 (Photo: VNA)
Speaking to the academy's staff, the Party leader said that security and defence are always an essential and permanent task of the State, the political system and the entire people under the leadership of the Communist Party of Vietnam (CPV).
Above all others, the whole Party, people and army must be fully aware of and skillfully apply the close combination of two strategic tasks: building and protecting the country. Economic development, he stressed, should be always coupled with security and defence.
The Party leader, however, noted that the cause of national protection in the new situation is posing both pressing and long-term issues.
As a strategic and leading academy in the defence and security sector, the NDA plays a very important role and undertakes extremely vital duties, he said.