The US Commission on International Religious Freedom should meet religious believers in Ho Chi Minh City and realize that there is true freedom of religion in Viet Nam, the standing deputy head of the HCMC Party Committee told the commission yesterday.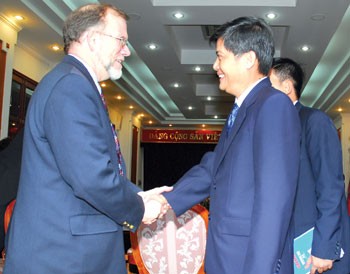 Deputy head of the city's Party Committee Nguyen van Dua shakes hands with Mr. Michael Lewis Cromartie. (Photo SGGP)
By doing this, Mr. Nguyen Van Dua said, they would gain an objective and comprehensive understanding of where Viet Nam stood on the issue.
Mr. Dua answered their many questions about the Vietnamese government's religious policies, how the various religions were practiced here, and what a religious organization needed to do to register with the authorities.
He said Vietnamese people had the right to practice any religion or none at all if they so chose, and that the authorities always allowed religious organizations to build places of worship as long as they stayed within the law.
After the meeting, a member of the commission said it had been very interesting to hear his words. What Mr. Dua was telling them, he said, was far different from what the commission had heard before coming to Viet Nam.
Later in the day the commission was given a warm reception by Ms. Pham Phuong Thao, chairwoman of the HCMC People's Council, who expanded on the subject of religious freedom in Viet Nam and the city's social and economic context.
Ms. Thao cited a recent survey that found that one third of the city's more than seven million residents, or 2.4 million people, claimed some form of religious affinity and regularly attended the more than 1,500 places of worship within its perimeter.
In the past two years, Ho Chi Minh City had licensed 22 Protestant organizations with more than 8,000 followers, she added.
She made the special point that there were 6,000 foreign Christian and Muslim businessmen in Ho Chi Minh City and that they were free to practice their religions in their places of worship.
The US delegation is led by Mr. Michael Lewis Cromartie.