Two Vietnamese AO/Dioxin victims have successfully completed a 33-day tour of the US to seek support for fellow-victims in Viet Nam.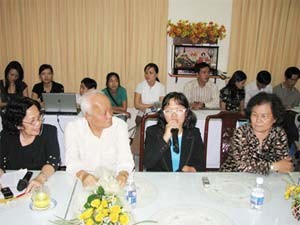 Ms. Nhut and Ms. Hoan (from R to L) at the press conference yesterday

Dang Hong Nhut, 67, a first-generation AO victim, and Tran Thi Hoan, 22, a Ho Chi Minh City university student who was born without legs and her left arm, were accompanied by an interpreter.

They were welcomed and supported by American veterans who called for collecting signatures to protest against chemical companies, Ms. Nhut told a press conference in HCMC yesterday.
 
During their trip to 10 major cities in the US, they held 50 meetings with intellectuals, students, veterans, and lawyers, and gave 80 interviews to the media, the conference was told.

American lawyers have promised to help with the compensation lawsuit Vietnamese victims are pursuing against the chemical companies, the group said.

On Oct. 6 the group filed an appeal in the US Supreme Court.

Professor Nguyen Thi Ngoc Phuong, vice president of the Viet Nam Association for Victims of Agent Orange/Dioxin, said, "The US Congress may pass a bill to support Agent Orange victims since US veterans who suffered from health problems due to AO recently received US$1.5 billion in compensation."

The US government has given US$1 million to handicapped children in the central city of Da Nang, most of them AO/Dioxin victims, Prof. Phuong said. Dong Nai Province near HCMC would receive the same amount soon, she added.

"Viet Nam needs about US$3 billion per year for ten years to clean the environment and relieve the suffering of AO victims," she said.