Delegates discussed the effects of climate change and the resultant rise in water levels on farming and the environment in the Mekong delta at a seminar held on November 12 in Can Tho.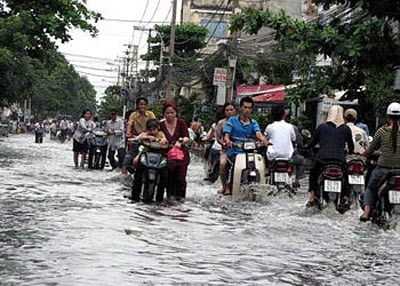 Climate change would cause flooding, directly affecting 10 percent of Vietnam's population, according to the World Bank
Vietnam, especially the Mekong delta, would be seriously affected by climate change, according to experts, it promotes disasters severer than ever.

Experts estimate the country's average temperature to rise by 3 degrees Celsius and the sea level by one meter by 2100.

If the oceans rise by a meter, 40 thousand square kilometers of coastal regions will be flooded, 90 per cent of it in the delta.

The World Bank has warned that 10 percent of the country's population will be directly affected and GDP will fall by 10 percent.

The deputy chief of the Preventive Health and Environment Department, Tran Dac Phu, said climate change would also bring several fatal diseases such as dengue fever, cholera, typhoid, and diarrhea.

The Government Office and the Ministry of Natural Resources and Environment organized the seminar which was attended by Minister of Natural Resources and Environment Pham Khoi Nguyen and others.