Mekong Delta – Vietnam's largest rice granary - has big natural potentialities to develop agriculture as well as seafood farming. However, the delta has mainly developed the economy in tendency of exploiting natural resources while investment in traffic, electricity and irrigation systems has been limited.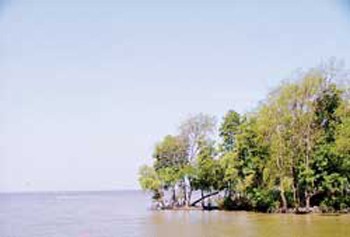 Mekong Delta should have suitable policies to develop its big agricultural potentiality, seminar (Photo: SGGP)
That what heard at a seminar held in Ho Chi Minh City April 21 to seek out measures for the delta's agricultural sustainable development with the participation of scientists from agriculture, forestry, seafood and environment sectors.
The seminar was held to begin the forum Mekong Delta Economic Cooperation (MDEC) Kien Giang 2010, which take places in HCMC from April 21 to 25.
With a contribution of 18 percent to the country's GDP, the delta has not been successful in creating an economic development breakthrough, which is equivalent with its potential.
In addition, climate changes have much affected the Mekong Delta's agricultural production, with salt penetration, flooding, drought being found worse.
Dr Dang Kim Son, head of the Institute of Policy and Strategy for Agriculture and Rural Development said that to sustainably develop agriculture, the delta should pay attention to how to affectively use natural resources, especially land and water.
For land for agricultural production, he said that delta should concentrate in making use of its advantages compared with other regions in the country.
To efficiently use the water source in the current climate change, it is necessary to draft irrigation plans adaptable with natural conditions.
Meanwhile, Professor Pham Van Bien, former head of the Institute of Agricultural Science for Southern Vietnam said that the Mekong Delta has a host of advantages to produce rice, seafood and fruits.
However, the biggest limitation for economic development has come from small and unconnected production as well as from lack of science and technology application in production.