Senior managers of the Dai Tan Ethanol Plant in Dai Loc District in the central province of Quang Nam are currently absconding, leaving behind huge bank debts and unpaid salaries of workers.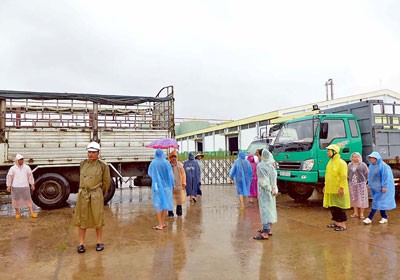 Residents used trucks to block the entrance to Dai Tan Ethanol Plant
For the last one month, residents from Quang Nam and Kon Tum Provinces have used trucks to block the entrance gate of Dai Tan Ethanol Plant, a unit of Dong Xanh Company, to demand payment of VND21 billion (US$1 million) owed to them.
The Bank for Investment and Development of Vietnam (BIDV) and the Vietnam Technological and Commercial Joint Stock Bank (Techcombank) also sent staff to the plant to protect the ethanol and other products that stood as collaterals to clear bank loans.
According to local residents, the company has not paid them remunerations of upto VND21 billion for materials, food and loading and unloading costs.
The lowest debt amount is VND380 million ($18,000) owed to 30-year-old Mai Van Chi who was a cook for workers at the plant. The biggest debt amount is VND4.5 billion ($216,000) for cassava tubes provided to the company by Pham Thi Ngoc Thanh of Kon Tum Province.
Recently, when residents heard that Techcombank was about to take away ethanol products out of the plant premises to recover debts of upto VND30 billion, they blocked the plant's entry and exit gates with seven trucks, to prevent anyone from removing movable assets from the plant.
 
Resident Pham Thi Ngoc Thanh said that liquidation of the plant's assets must be mutually agreed upon by creditors and concerned authorities of Quang Nam Province.
Dang Hung Tran, deputy chairman of the People's Committee of Dai Loc District, said they have met with Luu Quang Thai, chairman of Dong Xanh Company, who confirmed that the company had indeed become totally bankrupt.
Thai said that they now owe BIDV VND540 billion ($26 million), Techcombank VND120 billion ($5.76 million), residents VND20 billion and workers VND7 billion ($336,000) in back salaries and insurance fees.
District authorities suggested that Dong Xanh Company and banks first clear debts of residents because this amount is small compared to other debts.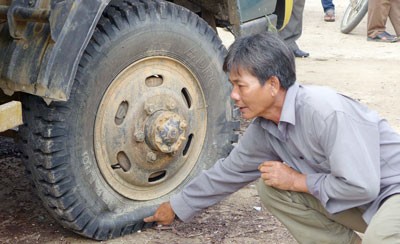 Duong Ruou Em said the bodyguards punctured his truck tyres
At 2am on December 20, a crowd of at least 100 people gheraoed the plant's entrance, even threatening to break down the door, so that they could carry away the ethanol at night.
Local residents said they saw tens of people get into 16 seater vans and 50 seater buses to escort 16 tankers from Da Nang to Dai Tan Plant. Several of them were accompanied with uniformed bodyguards carrying canes, electric batons and pepper spray cans.
They blocked the road, demolished trucks, punctured tyres and pushed aside two 3.5 ton trucks, which were blocking the front entrance of the plant.
Later these men burst through the plant's gate so that their tankers could go inside to transport the ethanol out. At this point, they faced a vicious attack from a group of about 20 residents who had been lying in wait for the last several days in front of the plant.
The bodyguards tussled with residents, which situation turned ugly and Truong Minh Hoa, head of Police in Dai Tan Commune was forced to open fire to put an end to the chaos.
The group of men still pursued and tried to drive their buses straight through the gate but residents held hands to bar them and called out "Police!" after which the bodyguards turned and left.
Soon after the commotion, two of the lighter trucks had their glasses smashed and tyres punctured, and several 80-100cm sections of tree trunks, used for smashing the trucks, were left lying at the scene.
During the night, Dai Loc District Police caught two buses and took 50 men into custody.
Of the 50 people caught, 35 were bodyguards of Phi Vu Security Company based in Go Vap District in Ho Chi Minh City and 15 others were hired men.
Local residents said that Techcombank had hired the bodyguards to transport the ethanol out of the plant.
On December 20, Chu Thi Ngoc Lan, director of Techcombank in Da Nang City, met with the press on this issue. She said that Dong Xanh Company owes her bank VND152 billion and that the ethanol would clear the loan. 
The bank had Logistics LA+ Techcombank Company based in Hanoi   to transport the alcohol from the plant. This company then hired Phi Vu Security to protect and escort the cargo.