Prime Minister Nguyen Tan Dung has expressed his hope that US Senator Jim Webb will make positive contributions to promoting ties between the US and ASEAN as a whole, as well as each member of the bloc.
At a reception in Hanoi on Aug. 19, PM Dung hailed the current working visit to Vietnam by Sen. Webb, describing it as a practical act to contribute to further development of friendship and cooperation between the two countries and bring benefit to both sides.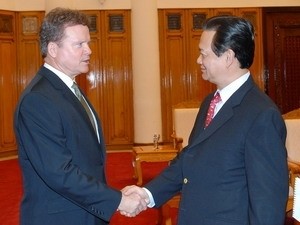 Vietnamese Prime Minister Nguyen Tan Dung (R) greets US Senator Jim Webb in Hanoi Aug. 19 (Photo: Vietnam News Agency)
PM Dung and Sen. Webb expressed their pleasure at Vietnam-US relations in recent years, which saw progress in many fields and discussed issues of mutual concern.
The PM said he hoped the US congress and government would keep apprised of Vietnam's current socio-economic development and continue to enhance bilateral trade for the rights of businessmen and the citizens of both nations.
For his part, Sen. Webb said that, his own personal views on some cases relating to religious freedom in Vietnam aside, the progress in religious freedom in Vietnam, particularly since 1991, cannot be denied.
He agreed with PM Dung's view on the need to further enhance understanding among the overseas Vietnamese community, including those in the US, on the country's development in economy, society, democratic processes, and human rights, to oppose false information purveyed by hostile elements to the detriment of Vietnam.
On the same day, Deputy Chairwoman of the National Assembly Tong Thi Phong met Senator Jim Webb.
The Senator said that over the past 18 years he has visited Vietnam many times and met with the Vietnamese community in the US in a spirit of mutual respect and understanding, to boost relations between the two countries, and between the US Vietnamese community and local residents, to heal the wounds of war and look toward the future.
He expressed his belief that the exchange of visits was the best method to further mutual understanding.
While staying in Vietnam from Aug. 18-22, the Senator will visit Da Nang and Ho Chi Minh cities.