Leaders at all levels should serve as exemplary models said Party General Secretary Nong Duc Manh during a recent review of the "To study and follow ( Late President ) Ho Chi Minh's example" movement.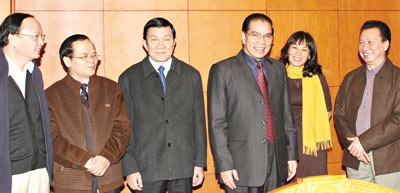 Party General Secretary Nong Duc Manh (3rd, R) meets with representatives on January 4 in Hanoi to review the third year of a movement titled "To study and follow Ho Chi Minh's example." (Photo: VNA)
Acting in accordance with the late President's ideals will ensure the movement is substantive and effective, said Mr. Manh during the evaluation of the three-year-old program.
The review was held in Hanoi on January 4 to assess the movement in 2009 and to discuss efforts for 2010 ahead of the 11th National Party Congress.
Speaking at the meeting, Mr. Manh praised the achievements of Party organizations at all levels last year.
The movement had a positive effect on the execution of economic and social duties, he added.
Regarding tasks for 2010, Mr. Manh called on all citizens and the Party to continue implementing the movement in order to reinforce the Party's strength and keep it powerful.
He also asked the Ministry of Education and Training to work with the Central Department of Propaganda and Training to review the movement's training manual to ensure it continues to be practical.