Four people died and 10 others injured after a passenger van crashed into a truck on National Highway 1A in Cam Ranh City in the Central Province of Khanh Hoa on April 10.
The 16-seater van carrying Taiwanese (China) passengers crashed into a truck travelling in the opposite direction. The accident occurred at 4.30 in the morning.
Four Taiwanese citizens died as well as the driver of the van. Others with serious injuries were taken to the provincial general hospital while those with minor injures were taken to Cam Ranh Hospital.
Most of the passengers in the van were Taiwanese employees of the Taiwanese company, Pouchen from Binh Tan District in Ho Chi Minh City.
Cam Ranh City leaders visited the victims in hospital and provided immediate compensation of VND3million (US$150) to each of the dead and VND1.5million ($75) to each of the injured.
Police are investigating the cause of the accident.
In related news, earlier on the same day at 1:15 am, a passenger van crashed into a private house on the roadside on Highway 1A in Ha Tinh province, injuring six people.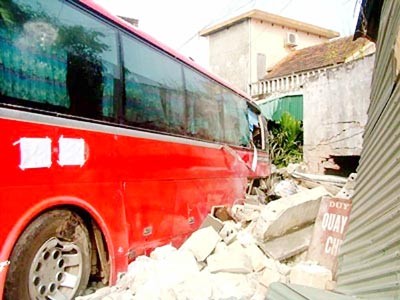 Wreckage of the van that crashed into a private house in Ha Tinh Province.(PhotoSGGP)
Driver Dao Xuan Cuong, 28, from Thanh Hoa Province was on the way from HCM City to Thanh Hoa Province in a 45-seater van. He happened to doze off while driving the van at high speed.
The six injured included driver Cuong, his assistant, two passengers and one mother with her child, who were inside the house.
The accident wrecked the van and four motorcycles.
Another accident occurred at a privately owned petrol station in central province of Ninh Thuan on April 10. The petrol station was exploded, causing three injured.
Police are investigating the cause of the fire.