Service and tourism are key factors for the development of the northern border province of Cao Bang, said Prime Minister Nguyen Tan Dung during his working visit to Cao Bang on June 25 and 26.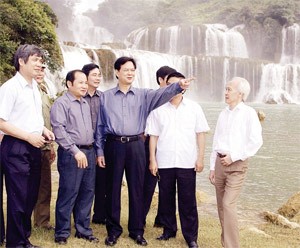 Prime Minister Nguyen Tan Dung (C) talks with Cao Bang Province's leaders, behind them is Ban Gioc Waterfall - a famous natural site of the province

The purpose of the government leader's visit was to discuss the province's socio-economic development from now until 2010.

After receiving reports on the province's socio-economic situation, the PM expressed his sympathy with the difficulties facing Cao Bang, one of the poorest provinces in the country, which shares a 300 km border with China.

He went on to say how Cao Bang has proved capable of being self sufficient; the industry and service sectors have developed and the province has paid attention to developing education, culture and upgrading its infrastructure. However, economic targets set by the province remain too low.

The PM asked the provincial authority to quickly implement programs on raising people's living standards, reducing poverty and developing transport infrastructure, particularly the National Highway No. 3 (Cao Bang-Ha Noi) and No. 4A (Cao Bang-Lang Son).

The province should hook up with the central authorities to combine strengths in developing hydroelectricity, mining and border-related economies, the PM said.

He requested that the province finish plans for the Ban Gioc Waterfall Tourism Area, including the construction of a route linking National Highway 3 to the waterfall, Nguom Ngao cave and Pac Bo historical site for tourism purposes.

Cao Bang should mobilize capital from various sources and apply investment incentives to develop its service and tourism, PM Dung stressed. Besides, the province should focus on agriculture and agriculture-related policies, farmers and ethnic minorities. He also asked provincial leaders to supply enough domestic water to inhabitants in mountainous areas.

For the occasion, the PM visited soldiers guarding the border in the areas near Ban Gioc waterfall.