A horrific crash on Sunday involving a passenger car and a truck on the Highway 13 in Ben Cat District in the southern province of Binh Duong claimed seven lives and left 14 with serious injuries, authorities said.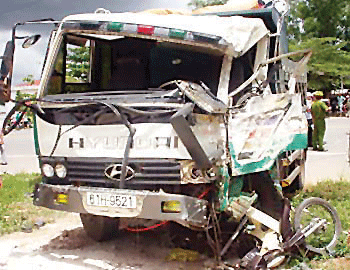 The truck damages seriously after the crash
Police and scientists from the Department of Criminal Science cordoned off the scene and carried out autopsies on the seven victims as no one can identify the bodies.
A truck going from Binh Phuoc to Binh Duong province moved into the left hand lane while attempting to pass, according to a police report.
This resulted in a head-on collision with an oncoming passenger car. Six people sitting in the front seats of the passenger car were thrown threw the windshield and knocked down by the truck. They died on the spot.
The car then crashed into a coffee bar. Luckily, no one was there at the time. The truck, meanwhile, ran over two motorcycles and dragged a third motorcycle for 30m until it hit a lamppost.
A motorcycle passenger and two drivers in critical condition were taken to the General Hospital in Ben Cat District. Two patients were transferred to Cho Ray Hospital in Ho Chi Minh City because their condition was so serious.
The other patients were treated at in Ben Cat for bone fractures and other injuries.
Authorities are investigating the accident and making a list of victims.