Seven people died in a tragic accident in Nui Thanh Town in the central province Quang Nam, at about 5.45am on July 21.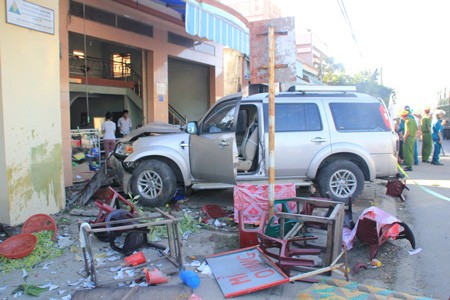 Scene of the accident (Photo: SGGP)
Witnesses saw a Ford Everest seven seater (number plate 92H-0613) suddenly lose control and crash into a pole and plough into a roadside eatery owned by Tran Thi Nga on 677 Pham Van Dong Street in Nui Thanh Town.
Seven people died on the spot, while three others were seriously injured. The seven victims had just left a nearby hotel and had gone into the restaurant to have breakfast.
Police said that the car that caused the accident was being driven by Tran Xuan Dong, from Tam Ky City in the central province of Quang Nam.
Immediately after the accident, Dinh Van Thu, Vice Chairman of Quang Nam Province visited the scene of the accident and called on the victims' families.
The People's Committee of Nui Thanh District supported each of the dead victims' families with VND6 million each, and VND2.5 million for the injured. The local people also donated VND10 million to support the victims who later were taken home for burial.