After sweeping through the northern region and leaving two dead and missing, typhoon Dianmu, the third storm hitting Vietnam this year, unleashed downpours and flooding to raise the number of victims by five people on August 20.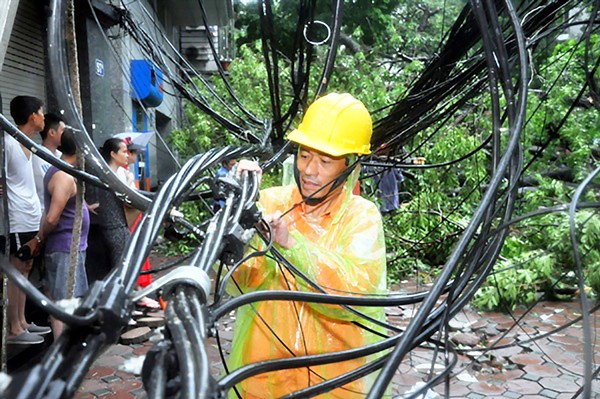 Vietnam Electricity workers repair broken cable lines in Hanoi on August 20 (Photo: EVN)
Heavy rains continued drenching many areas in the northern mountainous region.
In Lao Cai province, flood water marooned hundreds of households in Sa Pa district and triggered landslide in Bat Xat, Van Ban, Bao Thang districts and Lao Cai city. Tens of houses were roofless and collapsed early Saturday.
The province Steering Board for Natural Disaster Prevention and Search and Rescue said that one local was buried to death under landslide debris in O Waterfall, Van Ban and a 14 year one child was swept away in Sa Pa.
Yen Bai province reported an elderly couple washed away while Hoa Binh province had one missing.
The storm also damaged nearly 6,000 hectares of rice and other crops in the northern region. Coastal provinces from Thanh Hoa to Quang Ninh had to evacuate 50,400 citizens.
Provinces in the eye of the typhoon reported no human damage including Nam Dinh, Thai Binh, Hai Phong and Quang Ninh.
Sea weather was back to normal yesterday in Quang Ninh province so local authorities permitted tourist vessels to resume operation. 44 visitors stranded in Co To Island, Minh Chau-Quan Lan and Van Don tourist sites have returned to the mainland.
Nine households in the area where a hole of depression occured in Ha Long city have been removed to safety.
Power blackout in the island has been repaired and traffic has been resumed in Ba Che district after floodwaters retreated.
Vietnam Electricity (EVN) said that typhoon Dianmu caused power cut-off but it was not as heavy as it was during the first storm. Power companies in Hanoi have reconnected all cables broken due to uprooted trees.
At a meeting yesterday afternoon, director of the National Hydro Meteorological Forecasting Center Hoang Duc Cuong said that after the third storm was over, three tropical low pressure systems have brewed in the Pacific Ocean. They might intensify into typhoons but are unlikely to enter the East Sea.
The Red and Thao rivers have swollen posing a flooding danger in Yen Bai and Phu Tho provinces, he added.