Seven students of sixth grade fell from the second floor when the handrail broke at a high school in Cho Ra town in the northeastern province of Bac Kan on January 10.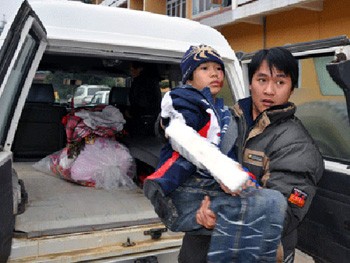 One of the seven students who fell from the second floor in Cho Ra Town High School in Bac Kan Province on January 10 (Photo: Nguoilaodong)
The accident occurred during the break when students came out to the corridor in front of their class room to watch other friends playing in the schoolyard below.
Lo Van Tuong from Bac Kan Province General Hospital said that four of the seven students were seriously injured.
Of them, Nguyen Tung Lan broke his right arm and suffered multiple injuries on the face and jaw.
The other three students were Nong Thi Ngoc with a broken right arm, Nong Thi Thao Trang with a spinal injury and Duong Thi Ha Vi who hurt her right leg and suffered injuries on her face.
According to the school authorities, Cho Ra Town High School has been under construction with the Thai Nguyen Province-based Phu Dat Company since 2006. The work is still not complete but the building was being used without banisters.
During the initial investigation, the second floor handrail was built with only cement and had no steel framework.