The organizational board of Earth Hour Campaign 2013 in Ho Chi Minh City on March 20 hosted a press conference to introduce several activities that are being held to propagate the Earth Hour Campaign this year.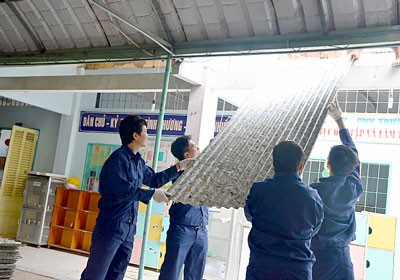 Roof sheeting made of milk tin containers being installed at Hoa Phuong Nursery School in Binh Chanh District, HCMC (Photo: SGGP)
According to the board, the campaign has lured much attention from several young volunteers and local residents.
Campaign volunteers have installed nearly 400 energy saving bulbs in several houses in various districts. Students at the dormitory of HCMC National University have collected about 1,000 milk tin containers to make roof sheetings.
One of the most successful activities of the campaign has been the eco house project, under which the damaged roofing of Hoa Phuong Nursery School in Binh Chanh District was replaced by sheeting made from milk tin containers.
Teachers and students joined hands to plant trees in their school campuses in response to the 'Green School' project.
More than 1,000 young people rode bicycles to propagate the Earth Hour to communities in various districts in HCMC.
All the above activities precede the main event of the campaign, which will take place on March 23 at the Youth Cultural House and is expected to attract more than 5,000 teenagers and residents. Residents will switch off their lights for one hour, beginning 8.30pm (Vietnamese time).
Nearly 300 actors and models called on 1,000 people to pledge to switch off their lights for an hour. An exhibition will also be hosted to display a picture made from 2,000 waste plastic bottles.
Related articles:
Eco Project inaugurated under Earth Hour Campaign
Earth Hour campaign draws thousands of youth in HCMC