Several reservoirs in the central region were built many years ago and are now in a badly downgraded condition and highly unsafe during the storm season, as they may burst at any time.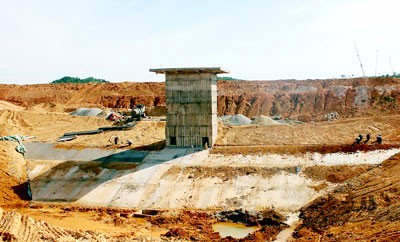 Repair work on the downgraded Boc Nguyen Reservoir in Ha Tinh Province was left half-done due to capital shortage (Photo: SGGP)
Viet Yen reservoir was built on the Vinh Dinh River to provide irrigation water for 6,000 hectares of rice, vegetable and seafood farming in Trieu Phong and Hai Lang Districts of Quang Tri Province.
The reservoir's dam has 13 sluice gates which have all corroded with salt water over the years. Four of them even have broken bolts and divers will have to be hired to go underwater to open or close these four gates.
Nguyen Van Bai, director of the Department of Agriculture and Rural Development in the province, said that it is too dangerous for the divers to do so in the flood season as they may be swept away.
All the 13 sluice gates of Viet Yen need replacing. The new ones should be made from a type of alloy that is anti-corrosive and rust-proof.
However this up hauling will cost VND10 billion (US$476,000), which is beyond the province budget, said Bai.
According to the irrigation departments in Quang Tri and Thua Thien-Hue Provinces, about 40 percent of 1,000 irrigation works in their localities have downgraded rapidly, in spite of tens of billions of dong having been spent to repair them.
They are in danger of bursting during the flood and storm season this year, as they are far too old.
Boc Nguyen reservoir is listed as one of the worst downgraded reservoirs in Ha Tinh Province. It was built in 1965 to provide water for farming and for residents in Ha Tinh City, Thach Ha Town and surrounding areas.
A project was undertaken to repair erosion and leaks on the above dam with financial support from Australia. However now all work has been discontinued, and conditions have worsened.
The reservoir is in urgent need of repair to ensure safety for hundreds of thousands of households in the low-lying areas.
Sixty of the 115 reservoirs in Quang Ngai Province are also in the same state with erosion, depression, cracks and leaks found across the face of the dams. Son Tinh District alone records five which have badly downgraded and even suffered debris slide.
Nguyen Tan Cong, head of the agriculture department in the district, said that the district's budget is too limited to fully repair and upgrade such badly downgraded irrigation works.