Trade villages across the country are facing hard times, with some on the verge of bankruptcy, and desperately seeking a market for their products.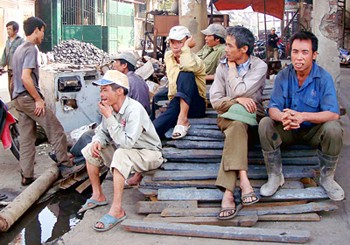 Several workers are now redundant in Da Hoi steel production village (Photo: SGGP)
Briefly some made a recovery in 2010, after the economic crisis of 2008, such as the Da Hoi steel production village in Tu Son District of Bac Ninh Province, which again is facing severe financial losses.
Do Van Hien, chairman of the People's Committee of Chau Khe Commune, where the steel production village is located, said that Da Hoi Village once had 1,700 steel production units. Tens of them have declared bankruptcy and hundreds others are considering temporary shut down. Losses now are running into billions of dong.
The numbers of workers employed in Da Hoi Village have dropped to 200-300 people from 1,000, several of whom have returned to their hometowns to seek other jobs, Hien said.
Tran Van Bien, owner of the Thuy Ben steel production unit said that he used to produce 400 tons of steel a day, which now has shrunk to half, resulting in laying off of most of his workers.
Similarly, Tran Van Cuong, owner of another unit said his plant employed 50-60 workers last year but the number has fallen to only 10 now.
According to the production units, the stagnant real estate market has led to a drop in sale of construction material, with steel being severely affected as a result.
In addition, banks are pushing to collect debts to increase liquidity, putting huge financial burden on businesses that are finding it even more difficult to clear losses.
Do Van Viet, owner of Viet Pha unit said that he had to sell their factories and machines to pay bank debts. Several businesses are also insolvent with properties under bank seal.
Businesses are falling in the same situation in Hanoi, which has the highest number of trade villages in the country. At present, only a few families still remain in their traditional businesses, in the once thriving Ninh So Village in Thuong Tin District that weaves rattan and bamboo items for export.
A lot of trade villages like Truong Yen, Phu Nghia and Dong Phuong Yen in Chuong My District are with unsold stock, with no buyers, desperately attempting to cover losses and pay back high interest bank loans.
Overcoming bad times
The Department of Industry and Trade in Thai Binh Province said that 75 percent of the 19 trade villages in the province have closed down all production.
An Van Khanh, deputy head of the Department of Processing and Trade for Agro-Forestry-Fisheries Products said that the world economic turmoil had caused hardships for trade villages, with   millions losing jobs.
With State assistance and efforts made by trade villages, production units had made a brief recovery in 2010, but now after a year of hope more problems have cropped up.
Vietnam has 22,330 businesses and about 895,000 households in trade villages contribute to the country's products. But unfortunately only large scale businesses are able to access bank loans.
As a result, the Ministry of Agriculture and Rural Development has proposed to banks to assist small businesses with preferential interest loans and extend the duration of debt payment for those on verge of bankruptcy, Khanh said.
According to Pham Thi Hai Chuyen, Minister of Labor, Invalids and Social Affairs, the ministry is seeking measures to help unemployed workers so that they can find new jobs and assist them with financial aid, in case they are unable to find employment.
For instance, the ministry has proposed to local authorities to give priority to the unemployed so that they can get loans from the National Employment Fund. It has also instructed job centers to update information on the labor market to help unemployed find jobs soon.