The current cold spell in the northern and central regions has stretched for over 18 days and is showing no signs of abating.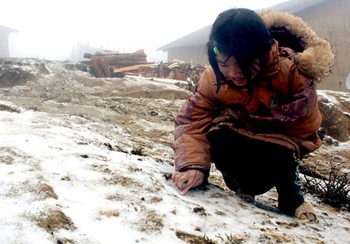 Heavy snowfall in Y Ty area of Lao Cai Province (Photo: SGGP)
The National Hydro Meteorological Forecast Center predicts similar conditions to continue until Tet (Lunar New Year).
Tuesday recorded the heaviest snowfall ever in Y Ty Commune, Bat Xat District of the northern mountainous province of Lao Cai.
Luu Minh Hai, deputy director of the Hydro Meteorological Forecasting Center in the province, said the temperature had dropped to -1 degree Celsius in the commune.
Since early morning heavy snowfall had blanketed the region with some parts showing 5-7cms of ice. Young plants and seedlings seemed crushed under thick snow and ice.
Temperatures in the Red River Delta and northern parts of the central region have fallen drastically and in Hanoi, the mercury dropped to 8 degrees Celsius.
The temperature is expected to drop further which might cause schools to close. At present, most hospitals in the region are overloaded with people admitted with cold related illnesses.
Livestock too is suffering from the severe cold and on Tuesday alone, the northern and central regions lost over 2,000 cattle, taking the toll of dead cattle to nearly 12,000. Cao Bang has been the worst hit province with about 2,300 cattle dead.
Hoang Kim Giao, head of the department of livestock production claimed that numerous fish, shrimps and chickens were continuing to die in this extreme cold. The department has instructed local authorities to assist each household whose have lost cattle with VND2 million.
Giao also warned that the number of dead cattle would continue to rise as harsh weather conditions look like prolonging until Tet. He has ordered local authorities to take all possible measures to protect the cattle from the cold weather.
Fishing boats in danger
The continuous cold spell was bringing high winds and making the sea extremely rough and unsafe for fishing boats. The winds were reported to be up to 75-88 kilometers per hour on Tuesday.
The rough sea and high waves sank a fishing boat in Sa Huynh waters of the central province of Quang Ngai's Duc Pho District. Two other boats broke down in Binh Son and Tu Nghia districts. The boats were later towed to the mainland by other fishermen.
According to the Quang Ngai Province border army headquarter; the province has about 112 boats with 2,450 people on board who are still trapped in the sea off Truong Sa (Spratly) Islands and Hoang Sa (Paracel) Islands. Most of them are mainly from Binh Son District and Ly Son Island.
The stormy weather has also rendered several boats idle in Quang Nam, Thua Thien-Hue and Quang Tri provinces.
Fisherman Nguyen Thanh in Phu Vang District of Thua Thien-Hue said that the weather was most unusual this year, forcing all boats to stay in the mainland though it was the peak fish season.