For the last three months there has been no rain in the central region, causing thousands of hectares of rice and vegetables to wither, rivers and springs to deplete and salt intrusion to worsen.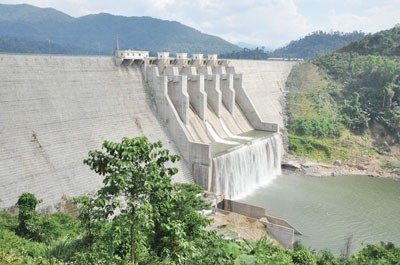 Dak Mi 4 has not released water to the low lying areas in Quang Nam Province and Da Nang City (Photo: SGGP)
Ho Van Duoc, chairman of the People's Committee in A Xing Commune in Huong Hoa District of Quang Tri Province, said that drought has never been as severe as this year. Local authorities have mobilized residents to dredge canals to facilitate irrigation water but are still unable to save large areas of crops.
About 2,000 hectares of summer-autumn rice is standing parched in Thua Thien-Hue Province, mostly in Phu Loc and Quang Dien Districts.
According to initial statistics from the agricultural industry in Quang Nam Province and Da Nang City, more than 5,000 hectares of rice and vegetables has been lost. Local authorities and residents are trying to salvage the remaining areas.
Huynh Van Thang, deputy director of the Da Nang City Department of Agriculture and Rural Development, said that if it does not rain in the next two weeks, all reservoirs will be depleted. Drought will increase salt intrusions area, devastating more rice crops.
Severe water shortage is affecting thousands of residents in the central region and salt intrusion has caused fresh water scarcity at the Cau Do Water Supply Plant over the last two months. The plant has to take water from An Trach dam for treatment, which is located eight kilometers away.
Local people have to keep awake at night to catch drips of tap water for daily use in several areas in Da Nang City.
Some hydropower plants in Quang Nam Province have not released water, worsening the drought and salt intrusion in the lowlands of the province and the neighboring city of Da Nang.
The Da Nang City People's Committee has sent a dispatch to Dak Mi 4 Hydropower Plant asking them to discharge water into Vu Gia River to cope with drought in the lower reaches.
In related news, Le Minh Duc, director of the Department of Agriculture and Rural Development in Long An Province, said that drought has put more than 30,000 hectares of mangrove forest in high risk of catching fire. An Giang Province also has about 13,000 hectares lying vulnerable to fire.
According to the Forest Protection Department, 18 provinces in the country are in high danger of forest fire with the most vulnerable provinces being An Giang, Dong Thap, Kien Giang and Ca Mau.
The department has instructed local authorities to implement measures to protect the dry forest cover.