Northern residents have not only suffered burning weather with temperatures peaking to record levels of up to 46-47 Celsius degrees, but also faced power cut-off without being informed in advance.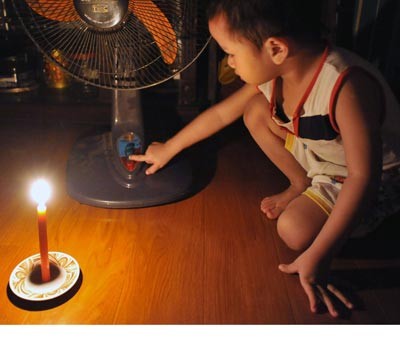 Hanoi residents have to suffer regular cut-off without warning in scorching weather condition over the last few days
Over the last three to five days, the power blackout beset Hanoi residents during heat peak times.
On June 19, the electricity was cut off at 2pm on wide area when the temperatures hovered around 46-47 degrees, leading residents leave their homes to seek for cool shelters.
At Thanh Xuan Bac tenement house in Thanh Xuan District, the condition was worst as the power failure came at 3am, sending a slew of people, who could not sleep due to scorching weather, to streets.
The electricity was just supplied against at 3-4 pm and soon went away against at 8-9pm.
Le Thi Lan, teacher at Hoa Phuong nursery school at the area, lamented that each time the electricity was cut off, they felt as if in a "fire pan" and did not know how to soothe tens of crying babies.
In addition, several rice processing units had to close their doors due to power failure, leaving a host of households without rice to cook in Quoc Oai District's Tuyet Nghia Commune.
Similarly, in Hoai Duc District's Dong Lao Commune, the persistent power blackout hold up operation of ice production units, doubling or even tripling the ice prices.
To the regular power failure, chairman of Hanoi city People's Committee has instructed relevant departments and Hanoi Electricity Corporation to postpone all power cut-off plans from June 19-27, to ensure health and daily activities for residents.
The Department of Industry and Trade has been also ordered to criticize the Hanoi Electricity Corporation for the regular power cut-off.
Severer heat forecast
Temperatures hit record levels in the northern and central regions June 19, director of the National Hydro Meteorological Forecasting Center Le Thanh Hai has said. Hanoi and provinces in the southern Red River delta was burned up at 46-47 degrees.
In the eastern delta, less affected by hot and dry winds, the temperatures also soared to 37-39 degrees.
The temperatures is forecast to go down in the areas beginning June 21.