A delegation from Sai Gon Giai Phong newspaper led by deputy editor in chief Ly Viet Trung on May 13 called on the Coast Guard and fisheries surveillance force in the central city of Da Nang, visited a ship that was recently rammed by Chinese ships, and gave presents to the naval personnel.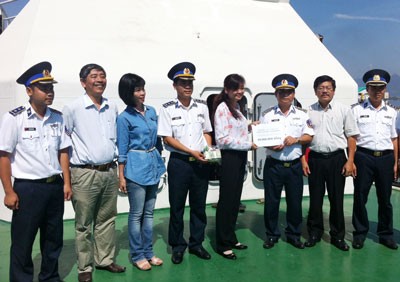 SGGP calls on and give cash to coast guards in the central city of Da Nang (Photo:SGGP)
The team was received aboard vessel No. 2012 by Tran Van Dung, political commissar of the Coast Guard, who said that he and his colleagues were moved by the gesture by SGGP's readers and staff. The ship has been repaired since the clash with the Chinese, and the crew was ready to perform its tasks again, he said.
Trung handed over VND60 million (US$ 2,800) to the Coast Guard and offered words of encouragement to the troops working day and night around islands to protect the country's sovereignty.
The amount was made up of a day's salary donated by SGGP staff and contributions from readers for a program for soldiers on islands launched by SGGP and the People's Navy.
Calling on the fisheries surveillance force section No.2, the SGGP delegation presented VND100 million (US$ 4,700).
On behalf of the force, Doan Thanh Lam thanked SGGP for its spiritual and material encouragement and promised the force would discharge its tasks to the best of its ability in order not to betray the nation's confidence.
Earlier, calling on naval troops and people living on several of Truong Sa's islands and oil drilling platforms Huyen Tran and Phuc Tan from May 3 to 12, SGGP gave them gifts.
It also gave 13 scholarships each worth VND1 million (US$47) to students in Truong Sa Primary School from the 'Chung Tay Vi Ban Nho Bien Dao Den Truong' (Join hands to help friends on islands go to school) fund contributed by primary- and junior high-school teachers and students in Ho Chi Minh City besides 300 books.
Many companies and organizations too sent gifts and emotional messages from people on the mainland to the soldiers.
The Dong Nai Province Department of Education and Training gave the Coast Guard VND500 million (US$ 23,700) from contributions made by teachers and students to its "For beloved Truong Sa students" program.