Saigon Giai Phong reporters were recently on a fact finding trip in the vicinity of proposed sites of Dong Nai 6 and 6A Hydropower Plants and found that the environment impact report provided by the project investor--Duc Long Gia Lai Group, was incorrect.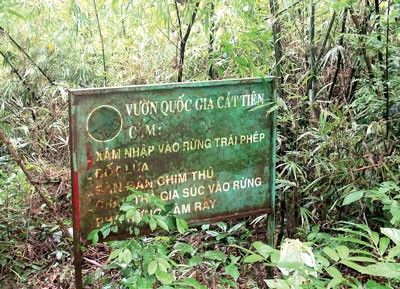 A sign board determines core area of Cat Tien National Park (Photo: SGGP)
The Dong Nai 6 and 6A Hydropower Plants are being planned on sites in Dong Nai Thuong Commune of Cat Tien District in the Central Highland Province of Lam Dong.
According to the environment impact report presented by the Group to the Ministry of Natural Resources and Environment for approval, Dong Nai 6 and 6A Plants will be located on the northern edge of Cat Tien National Park in Cat Tien District.
Construction of the plants, link roads and other related infrastructure will come up on the buffer zone of Dong Nai Biosphere Reserve.
Saigon Giai Phong reporters surveyed the location of the hydropower plants recently and uncovered that the Group's reports contradicted on-site findings.
Near Bu Gia Ra Village in Dong Nai Thuong Commune, SGGP reporters came across a forest patch at the core of the Cat Tien National Park, where the terrain was inaccessible for motorcycles and thick forests made maneuverability difficult.
Nguyen Trong Hieu, head of Bu Sa Forest Management Station inside the National Park, decided to leave the motorcycles and walked through the forest on foot.
Hieu said that it would take one hour to cross high slopes and thick forest to touch the site where Dong Nai 6 and 6A Plants are being planned.
Hieu and reporters had to grope their way forward and hold tightly onto tree branches to climb up a steep slope with big ancient trees along both sides.
They then saw a green board saying 'From this point lies the core zone of Cat Tien National Park, no one permitted except forest rangers'.
However, the Duc Long Gia Lai Group has already sent several survey teams to this area without permission.
Moving across another slope, reporters saw a path leading to a river, which was covered by thick canopy of leaves.
The Hydropower Plants and Dams are planned to be built on that location, pointed Hieu.
The above area is clearly the primeval forest of Cat Tien National Park with a diverse ecosystem.
The investor's report shows that about 1.16 percent of the total 372 hectare area meant for the project is rich forest zone. The remaining 98 percent is barren land.
The report also affirms that People's Committees in Lam Dong, Dak Nong and Binh Phuoc Provinces have permitted the Duc Long Gia Lai Group to build the plants in these areas.
Another incorrect detail in the report is that more than 2,000 ethnic minority people are living in the area targeted for the Hydropower Plants. Fact is--there is not a single resident living there because of the hostile mountainous terrain with no road access.
The People's Committee of Dong Nai Thuong Commune said that Bu Gia Ra Village has nearly 60 households but they are all located outside the buffer zone and core zone of the National Park.
Duc Long Gia Lai Group has surveyed and reported that animal and plant species in the area are common as in all other National Parks.
At seminars to discuss the environment impact of the Dong Nai 6 and 6A projects, scientists affirmed that the two plants will badly affect the ecological system and biodiversity of Cat Tien National Park. They will also negatively influence the lives of more than 10 million residents living in the lowlands, including in Ho Chi Minh City.
Dong Nai River will change course which will lead to flooding during every rainy season and cause drought during dry season. Cultural life of local people in the lower reaches of the Dong Nai River will also be affected in a negative way.