Sai Gon Giai Phong (SGGP) Newspaper signed a cooperative agreement on information support with the People's Committee of Da Nang city at the Da Nang city People's Committee Office yesterday evening.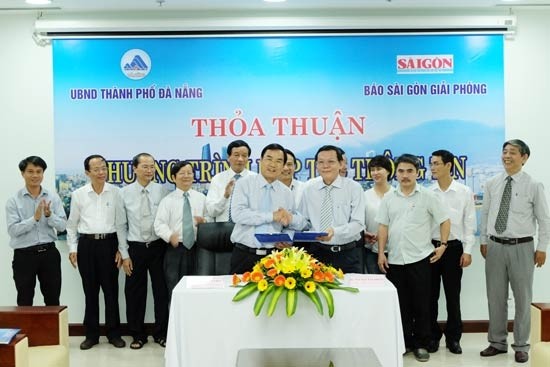 At the signing ceremony. (Photo:SGGP)
The cooperative agreement aims to not only improve information sharing, popularize Party and State's policies and laws to Vietnamese people but also contribute advertizing the country's image in general and Da Nang city's potentialities, achievements in the fields of economy, culture, society, science and technology in particular to domestic and foreign investors.
At the signing ceremony, Editor in Chief of Sai Gon Giai Phong Newspaper Nguyen Tan Phong said: "Da Nang city has achieved the plan of socio-economic development as well as the urban and traffic infrastructural building towards civilization and modernization.
Meanwhile, Sai Gon Giai Phong Newspaper is an organ of the Party Committee of the Communist Party of Vietnam in Ho Chi Minh City and plays a role as an effective voice of the Party, authorities and people of Ho Chi Minh City so the press agency will create more and more favorable conditions in strengthening information sharing and advertizing image of Da Nang city in hopes of posting Da Nang's information and events via programs, special columns and publications of SGGP Newspaper including SGGP Daily, SGGP Online, SGGP in English, SGGP in Chinese, SGGP Investment-Finance".
Vice chairman of the Da Nang city's People's Committee Phung Tan Viet said: "With cooperative agreement, the city desired SGGP Newspaper will support information in all fields to domestic and foreign readers."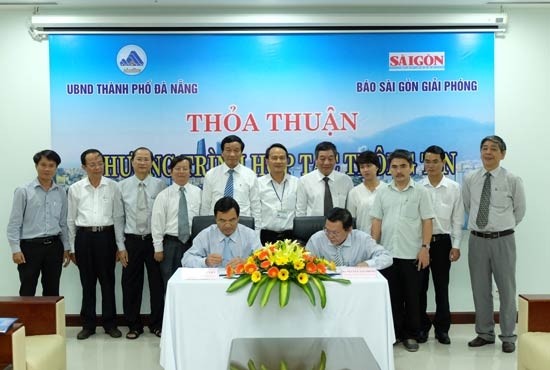 Editor in Chief of SGGP Newspaper Nguyen Tan Phong signs information sharing agreement with leader of Da Nang city. (Photo:SGGP)