Sai Gon Giai Phong Newspaper and the Naval High Command have signed a joint agreement to promote information about life in Truong Sa Archipelago.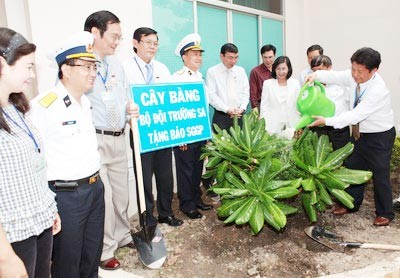 Tran The Tuyen, editor-in-chief of SGGP waters the Malabar almond tree gifted by the Naval High Command on April 5.(Photo:SGGP)
A delegation from the Naval High Command and Truong Sa Archipelago armed forces led by Vice Admiral Tran Thanh Huyen, the Political Commissar of the Vietnamese Navy, visited the SGGP newspaper on April 5.
Tran Thi Thu Ha, Vice Secretary of the Ho Chi Minh City Party Committee along with many authorities of Ho Chi Minh City attended a welcome ceremony at the SGGP office on 399 Hong Bang Street, District 5.
Speaking at the welcome ceremony, Tran The Tuyen, editor-in-chief of SGGP said that his newspaper would use media as a tool to propagandize information related to the sea and islands of Truong Sa with the intention of communicating with the Truong Sa cadres and soldiers. SGGP would do its best to communicate and update information as quickly as possible.
Mr. Tuyen also asked the Naval High Command to create a conducive environment for SGGP reporters to approach people and soldiers living in Truong Sa Archipelago. SGGP would function as a bridge to connect readers with people and the armed forces on the islands. SGGP would also host a big event to mark the 50th anniversary of the Ho Chi Minh Trail.
On behalf of the Naval High Command, Vice Admiral Huyen thanked the city authorities, people and SGGP for their sentiments.
On this occasion, the Naval High Command also awarded 19 campaign medals for protection of the sea and the sovereignty of the islands to SGGP reporters who have been to Truong Sa Archipelago.
Mrs. Ha, Vice Secretary of the city Party Committee, hopes that SGGP and the Naval High Command will coordinate closely to help naval officers and soldiers to receive updated information as frequently as possible about life and activities in HCM City and in return, keep people of the city well informed about the lives of soldiers in Truong Sa.