A charity mission by Sai Gon Giai Phong (SGGP), the HCMC-based Pham Ngoc Thach Medical University, and Hoang Anh Gia Lai Company arrived November 15 in the highland province of Gia Lai to provide medical check-ups, medicines, and gifts to people in Ia Trok village which was hit by Typhoon Mirinae in early November.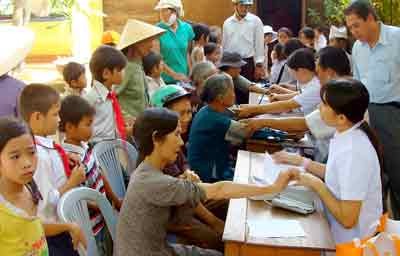 Medics provide medical check-ups and medicines to disadvantaged people in Ia Trok village, the highland province of Gia Lai ( Photo: SGGP)
Despite a 12-hour journey to arrive in the province, delegation members left on the 150 km trip to the village in Ia Pa District at 4:30 am the next day.
Older people, children, and their parents gathered at Le Hong Phong Primary School to wait for their arrival.
Dong Minh Hien, a Hoang Anh Gia Lai representative, said the charity mission came like fresh air to the storm-stricken village which is still recovering from the damage and diseases the storm caused.
Nguyen Thi Tam of Quy Duc Hamlet said with a smile: "Because I am too poor, I've never had a medical check-up so far."
Hien was overcome with emotion to see Tam and her niece smiling at the medicines and gift of a new schoolbag and some notebooks.
Dr. Le Van Minh examined people from morning until 3:00 PM and also spoke to them about the need for family planning. He taught parents some essential things about child care and counseled young people who were reportedly disrespectful to their parents.
The medical teams had to work without food because of the large number of people who had turned up.
Bread was offered to doctors, reporters, and poor patients at 3:00 PM.
The Ia Trok People's Committee chairman, Nay Than, said the village has 8,000 residents, 70 per cent of them belonging to the J'rai ethnic minority and living on rice and animal farming. The storm killed two people, 622 pigs and cattle, and 6,700 ducks. "Several charity missions have come here but this is the first medical assistance," he added.


SGGP and the Hau Giang Pharmaceutical Company November 15 provided medical check-ups and free medicines for over 1,000 people in the central province of Phu Yen's Dong Xuan District and donated 500 blankets.

Earlier, the mission's doctors examined and gave medicines to 500 people belonging to the Pa Ko, Van Kieu, Ta Oi, and Co Tu ethnic minorities in A Roong and A Dot villages in the mountainous A Luoi District in the central province of Thua Thien – Hue and gave 10 kilogram of rice each to 400 families.