Yesterday, SGGP on behalf of their readers traveled to Quang Binh Province to distribute VND12 million to families whose relatives were killed in the capsized ship in Quang Ninh Ward of Quang Binh Province on 25 March 2008.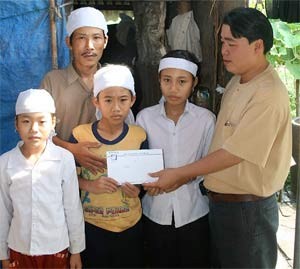 Representative of SGGP gives the donation to the family of one of capsized ship victims
On that fatal day, a ship carrying eucalyptus logs and 16 local people overturned on Long Dai River, a section running through the Truong Xuan Commune of Quang Binh Province. Six victims including three women drowned in the incident.

Luckily, the ten others aboard escaped death by managing to swim ashore.

The families of the victims expressed their heartfelt thanks to SGGP readers, who felt sympathy for their struggles and hardship and were ready to give them a helping hand.