SGGP Newspaper in coordination with the Red Cross Association of Quang Tri Province supported VND 56 million to the unfortunate families of Storm 'Wutip' in Quang Tri Province on October 11.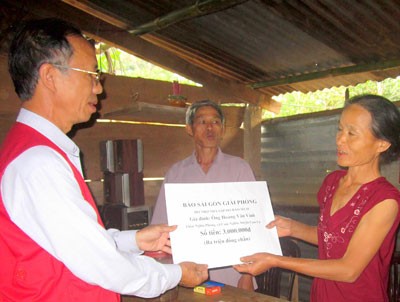 Representative of SGGP Newspaper offers VND3 million for family of Hoang Van Minh(Photo:SGGP)
SGGP Newspaper staff, reporters and officials donated a day's salary to help the storm victims in Cam Lo District of Quang Tri province, with a total amount of VND56 million.
The Newspaper also gave ten gifts worth up to VND 10 million to 10 families in Cam Lo. Particularly, VND 3million was also given to the family of Hoang Van Minh in Cam Nghia Commune of Cam Lo District to rebuild house and re-cultivate crops after the storm.
In related news, Le Thai Ngoc, Deputy Political Commissar of Border Guard Army, donated VND500,000 million to the People's Committee of Quang Tri Province and VND500,000 million to the Border Guard Army.
Bank for Investment and Development of Vietnam (BIDV) also donated VND1 billion, 10,000 notebooks and five tons of noodles for students and residents in the province.