Sai Gon Giai Phong Newspaper hosted a press conference yesterday to introduce a new health care program called "Young doctors volunteer for community health".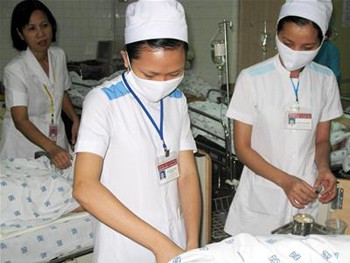 Over 3,000 young doctors will participate in the charitable program aimed to provide health care for the poor across the country (Illustrated photo from internet)
The Vietnam Youth Federation and the Vietnam Young Doctors Association jointly organized the press conference with Sai Gon Giai Phong Newspaper.
The program, set to take place between May 4 -18, will provide health checks and treatment, health consultancy, free medicines and also present gifts to 55,000 poor residents in 63 provinces and cities across the country.
The program will also offer training courses on first aid and nutritional advice to 2,500 teachers and parents.
Doctors will offer voluntary services and conduct free surgeries on about 500 elderly people suffering from eye diseases and on 110 children born with deformities and heart problems.
The program will also present medical equipment to about ten health clinics in the north central provinces of Quang Binh and Ha Tinh. A medicine cabinet worth VND30 million will be delivered to soldiers in Truong Sa (Spratly) Islands.
Pham Duc Hien, vice editor-in-chief of Sai Gon Giai Phong Newspaper, stated at the press conference that this will be the largest ever charitable health care program and will be attended by over 3,000 young doctors from cross the country.
Nguyen Phuoc Loc, Chairman of the Vietnam Youth Federation said that through the program they will collect about 12,000 units of blood (one unit is about 125ml) donated by young medics who are either studying or working in medical centers.
Tang Chi Thuong, director of the HCMC Children Hospital No.1 and a member of the program's organization committee, said that surgeries on child deformities and heart patients would continue until the end of the year in case the numbers of patients demanding treatment are too many.