Canon Vietnam Company in collaboration with the People's Committee of Phinh Ho commune in Tram Tau district of Yen Bai held a "Shan Tuyet tea tree planting" festival, reported the Department of Agriculture and Rural Development of Yen Bai province on September 28.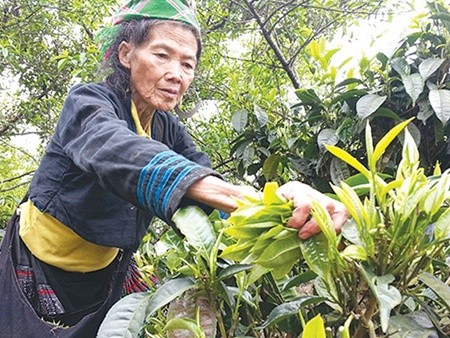 A H'Mong ethnic woman picks young buds and leaves from Shan Tuyet tea trees. (Source:VNA)
Shan Tuyet tea trees are planted on the highlands of northern mountainous provinces. During the winter, the tea trees' buds and young leaves are covered in a thin layer of snowy hair which creates the name "Tra Shan Tuyet" (Snowy Shan tea).
Shan Tuyet tea tree planting currently brings high profit and helps Vietnamese ethnic minorities not only to improve better their life and forest protection but also to further the poverty alleviation movement.
At present, there are nearly 4,000 hectares of ancient tea trees in Yen Bai province among 12, 000 hectares of Shan Tuyet tea trees with 90, 000 tons output annually in the region.