The Shanghai Communist Party of China Municipal Committee Secretary, Yu Zhengsheng, has expressed his belief that Prime Minister Nguyen Tan Dung's visit to Shanghai will help tighten the co-operative partnership between Vietnam and China in general and with Shanghai in particular.

Mr. Yu made the statement on April 30 while receiving PM Dung, who is in the city to attend Shanghai Expo 2010. He expressed his positive impression of Vietnam's people and land and praised the country's development potential. He affirmed that he will implement PM Dung's initiatives to boost multi-faceted co-operation with Vietnam.

PM Dung declared his deep impression of the Shanghai Expo and believed that it will heighten China's position and prestige. He proposed that the two sides continue to boost co-operation, especially in economics, trade, investment and tourism, and asked Mr. Yu to create favorable conditions for businesses from Vietnam and Shanghai and to increase the number of Vietnamese students studying in Shanghai.

On the same day, PM Dung visited the Vietnam and China Pavilions at the Shanghai Expo, the Shanghai research and development centre and the China Bank of Transportation – one of the world's 50th biggest banks. He also attended a ceremony for opening a new air route between Ho Chi Minh City/Hanoi and Shanghai.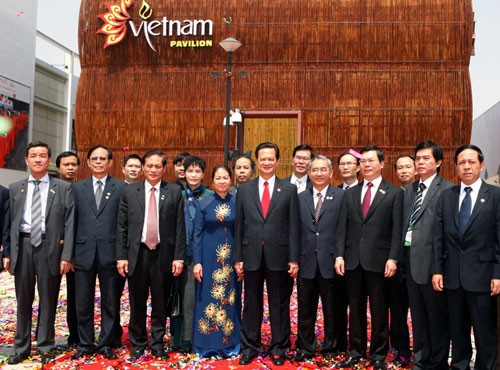 Vietnamese Prime Minister Nguyen Tan Dung (C) poses for picture at the Vietnam Pavilion at the Shanghai Expo (Photo: Voice of Vietnam)
In the afternoon of the same day, PM Dung met with Chinese Party General Secretary and President Hu Jintao who welcomed PM Dung and other state and government leaders to attend the opening ceremony of Shanghai Expo 2010 which draws the participation of some 200 countries from all over the world.