Hyundai Vinashin Shipyard Company (HVS) in central Khanh Hoa Province has blatantly defied all civic laws as it continuously dumps hazardous used toxic nix waste on dumping sites, polluting residential areas.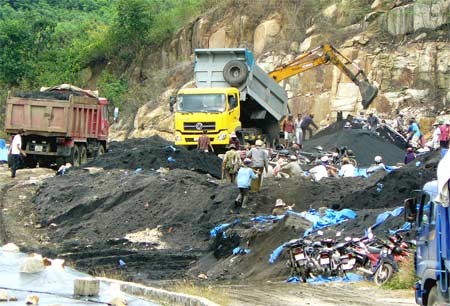 Trucks unloading nix waste over previous pile up (Photo: SGGP)
HVS, a joint venture between South Korea's Hyundai Group and the Vietnam Shipbuilding Industry Corporation, has been repeatedly fined for polluting the environment but it blatantly continues to discharge untreated nix waste, contaminating a residential area in Ninh Hoa District.
The Ministry of Science and Technology decided in 1999 to allow HVS to use nix grains, a type of copper slag, for cleaning the ship surface under the condition that the company would find a way to treat the waste.
HVS imported a total 809,000 tons of copper slag from 1999 to mid 2007, of which nearly 800,000 tons were used up by mid 2007.

Because HVS couldn't treat the used nix, it dumped the waste at a dumping ground in My A Hamlet of the Ninh Thuy Commune in Ninh Hoa District, three kilometers from the factory.
In 2003, the Government asked HVS to rectify all environmental damage caused by nix by 2006. HVS subsequently signed a contract for treatment of the waste with some companies.
However, these companies could only manage the treatment of 16,000 tons until early 2008, amounting to a mere two percent of the total waste.
The Khanh Hoa Province Police caught HVS in the act of dumping large amounts of dangerous toxic waste in 2008. So far, the Khanh Hoa People's Committee has fined the company a total VND85 million for environmental violation.
A report from Hyundai Vinashin showed that the company had dumped at least 700 tons of toxic waste by July 2008.
In November 2008, Deputy Prime Minister Hoang Trung Hai gave Hyundai Vinashin a three-year deadline to clean up its copper slag waste dump.
The Ministry of Natural Resources and Environment asked HVS to stop using nix until the company had implemented measures to treat used nix.
Consequently the company promised to construct a nix treatment plant in Ninh Hoa District.
In December, a VND1.5 trillion (US$75 million) copper slag treatment plant project invested by the Hanoi Mineral Metallurgy JS Co. was launched. However, the construction of the plant only began at the end of 2009.
According to a report from HVS, the Hanoi Company and Khanh Hoa Province, the factory will begin operations in 2011 and complete the treatment of nearly one million tons of copper slag within three years.
It is however doubtful if the treatment plant could begin operations this year, as the investor is already facing a shortage of funds and up to now has only managed to spend on site clearance.
HVS was found in December 2009 to import more copper slag.
Management agencies helpless
The Korean-Vietnamese shipbuilding company has violated environmental regulations for over ten years and management agencies in Khanh Hoa Province have been unable to deal with it.
Moreover, they have given the company a green light to import more copper slag and discharge the waste onto untreated dumps while HVS continues to improve on its methods to clean up the waste.  
Hoa Nguyen Chien Thang, chairman of the province, told the press on March 7 that at a meeting with HVS in early 2011 the company had asked to be allowed to transport all its nix grains to dump in a warehouse to have more space for its operations.
Mr. Thang said that as HVS had announced that it would be building new ships instead of being in the ship repair business and it would no longer pollute the environment with nix waste, the province had agreed to the suggestion by HVS and the Department of Natural Resources and Environment subsequently agreed to allow HVS to transport the grains to the nix dumping ground in My A Hamlet.
HVS deputy director Cao Tuan Dung has told Saigon Giai Phong that the province and the Department of Natural Resources and Environment have permitted HVS to use some of the 21,000 tons of nix which the company imported in December 2009, for repairing ships.
Meanwhile, Le Mong Diep, the department's director told Saigon Giai Phong on March 9 that his department had never given HVS such permission and the 21,000 tons of imported copper slag are still lying sealed.  
Le Ke Son, deputy head of the Vietnam Environment Administration and head of the inspection team on HVS, told the newspaper on March 9, that he hasn't received any information about HVS transporting copper slag out of its factory to discharge into the dumping ground.
He said he would look into the case right away.
While relevant agencies and ministries have taken measures to deal with HVS, HVS has continued to dump the waste callously on dumps in areas where local residents are forced to live amid the polluted waste.
According to scientists, the copper slag dust dispersing from the dump site contains metal elements such as iron, copper and leads which are all harmful to human health.