Food and beverages on sale before the Tet Lunar New Year holiday are peppered with expired products and those of dubious quality, report local officials based on recent investigations of food producers and distributors.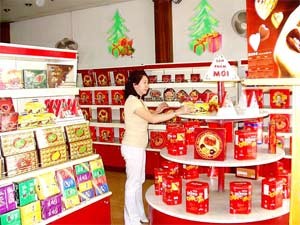 Food products on sale at a supermarket
According to Ho Chi Minh City regulations, all food processing and trading companies are obligated to register their products' quality with relevant agencies. But a number of producers have twisted the regulation's interpretation to provide inconsistent information on their products' quality and allow shoddy products onto local markets.

Upon inspecting the Nhat Hung Co., Ltd., inspectors from the HCMC Health Department found the company's dried beef was made of buffalo meat instead of beef, as is promised in the company's product registration.

Local officials also discovered a number of products of dubious quality in the Big C Eastern Supermarket in District 10: 17 unregistered products and 10 with incorrect product information.

Shoddy products from outside the country also made their way into local markets. Imported cookies and sweets of questionable quality can be found in almost every local market at comparatively low prices.

According to local officials, as the Tet Holiday is approaches, the demand for food is at its peak and a number of retailers will take advantage of the opportunity to pour expired and low quality into the market.

Foods of Chinese origin with no or altered expiry dates are easily found in the An Dong and Binh Tay markets.

On December 18, a large number of expired Korean foods, including cookies, noodles and dried squid, were discovered at a shop in District 7. Local officials mobilized four trucks to confiscate the goods.

According to Food Safety and Hygiene Department Head Tran Dang, the Health Ministry and relevant agencies will tighten their control over food sales during Tet. Five inspection teams will be formed to conduct thorough checks on the production, transportation and trading of food products as of January 2008.