Viet Nam's first President, Ho Chi Minh, is under the spotlight once again as filming for a new documentary on the leader kicked off on March 15.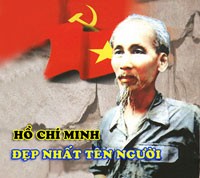 President Ho Chi Minh
According to Huynh Van Nam, general director of the film's producers HCM City Television Film Studio (TFS), the film "Hanh Trinh Theo Chan Bac" (Following in Uncle Ho's Footsteps) is TFS's most extensive documentary on the president so far.
"It also has the largest number of crew members," he says.
The film chronicles the leader's long struggle to win national independence and is divided into three periods: the first starting from the moment Ho Chi Minh left the Sai Gon's Nha Rong Wharf in 1911 and ending on the day he returned to the northern province of Cao Bang in 1941.
Starting with work as a kitchen porter in French steamliner Admiral Latouche Treville, the president launched off around the world in search of inspiration. His rollercoaster of adventures took him as far as Africa, the US , Europe, the Soviet Union, Malaysia and China .
A cloud descended on the next stage of his life as the leader was imprisoned in China from 1942 to 1944 but the culmination of his hard work came in 1945 when he read the Viet Nam declaration of independence, the final stage in his quest for Vietnamese sovereignty.
A year later, Ho Chi Minh made an official visit to France as President of the Democratic Republic of Viet Nam.
Shooting for the film will take place in two stages: in Viet Nam from March 15 to April 15 and the second slated for May 15 to August 3. The crew will also head to 17 other countries and territories including Singapore , Egypt , France , Russia and China for filming.
The documentary will be screened on June 5 to mark the day President Ho left the Nha Rong Wharf . It will followed by another documentary produced by TFS to celebrate the 100th anniversary of the day Ho Chi Minh left Sai Gon, the general director said.