Shrimp breeders in the Mekong Delta have been suffering severe losses over the years with diseases ravaging large shrimp farming areas, yet they seem least interested in insuring their shrimp crops as absurd insurance policies along with lengthy, complicated and unnecessary procedures have only put them off.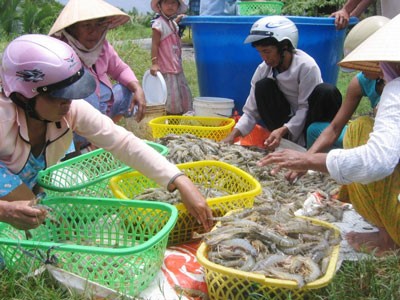 Shrimp breeders are not interested in agriculture insurance (Photo: SGGP)
According to a Government pilot project for agriculture insurance, poor households will receive back as much as 80-100 percent of the insurance amount. However, such a high return amount still fails to lure any of the shrimp breeders.
Nguyen Trung Thanh, chairman of the Ngoc To Commune People's Committee in My Xuyen District of Soc Trang Province, said that the Commune has 420 poor households who breed shrimps but none of them wish to buy insurance cover.
According to Mr. Thanh, farmers feel intimidated from so much paperwork and red-tape.
For instance, the Bao Viet Insurance Company requires breeders to write down the breeding process and report to the Commune's People's Committee on the health condition of their shrimps every week.
In case shrimps fall sick, breeders must report to the Commune authorities within 24 hours. The Commune's People's Committee then has to inform the insurance company within 48 hours.
Related sides will come to take samples for testing. This process takes at least a few weeks.
Another problem is that the insurance premium amount for tiger shrimp and white leg shrimp is widely different. The rate on white leg shrimp is much higher than that on tiger shrimp. 
Le Thanh Binh, an insurance agent and also an official of Ngoc To Commune, said that if a shrimp farm reports dead shrimps due to disease, its owner will not be compensated unless his Commune authorities proclaim an epidemic.
This regulation is absurd, as an epidemic means that the entire shrimp crop in the region would be more or less destroyed, said Binh.