Authorities in the Mekong delta provinces of Tien Giang and Ben Tre have asked shrimp farmers to temporarily put on hold any further breeding of baby shrimps, to curb and prevent the spread of disease.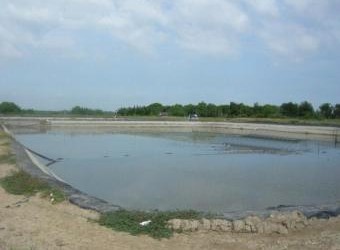 A shrimp-breeding farm in Ben Tre. Authorities in Ben Tre Province are not encouraging farmers to breed shrimps at the moment
Trinh Ngoc Minh, deputy head of the Department of Agriculture and Rural Development in Tien Giang said by delaying the process of breeding a new school of shrimps, chances of any spread of disease will be greatly curbed.
The People's Committee in the province has asked organizations and farmers who breed white-legged and tiger shrimps to stop putting baby shrimps into breeding tanks in farms, in order to give time to clean the tanks and kill any virus before the next harvest from 1 October 2011 to 15 January 2012.
Farmers in districts Go Cong Dong and Tan Phu Dong of Tien Giang province breed shrimps in 1,200 hectares of farmland.
Although the breeding of the aquatic species rakes in high profits, the province authorities are not encouraging the opening of more breeding farms.
Meanwhile the People's Committee of Ben Tre province has also asked shrimp farmers to delay breeding the two kinds of shrimps for the next harvest, until the province administration issues fresh orders.
According to Ben Tre authorities, bad weather is not conducive for shrimp breeding as the species is more susceptible to disease. Related agencies have been asked to raise farmers' awareness and to see that the orders are carried out.