An effort to collect signatures to support Agent Orange victims sponsored by the Ha Noi Agent Orange/Dioxin Victim Association, Bach Minh Joint Stock Company of the Vega Corporation and 69 Media Group has kicked off.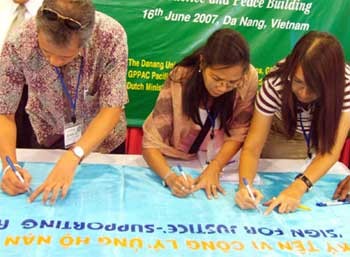 People sign their names to support AO victims.
The event, entitled "Millions of signatures - A heart," will be held at high schools and universities throughout the capital and in neighboring provinces, including Phu Tho, Ha Giang and Thanh Hoa, to collect signatures.
Once finished, the giant fabric with a million signatures is expected to be listed on the Viet Nam's Guinness Book of Records.
A musical performance, also entitled "Million of signatures - A heart,"   will be organized in Ha Noi on June 6 to raise money for dioxin victims.