There have been signs of an economic growth slowdown, said Deputy Prime Minister Nguyen Xuan Phuc at the opening of the third session of the National Assembly's 13th tenure on Monday (May 21) in Hanoi.
The NA report revealed that in the first four months of 2012, the world economy submerged in recession with the increase in raw materials, fuel, food prices. In the domestic market, there are difficulties in the macro-economy: purchasing power has reduced, there are huge quantities of stockpiled products, and banks have high interest rates.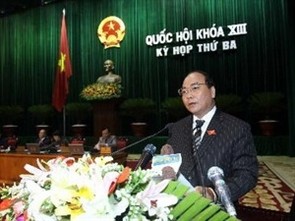 Deputy Prime Minister Nguyen Xuan Phuc at the opening of the third session of the National Assembly's 13th tenure (Photo: SGGP)
Deputy PM Phuc spoke on behalf of the government saying that thanks to combined effort, the economic situation in the first four months recorded positive results: inflation initially tamed, CPI increased only 2.6 per cent, the central bank closely watched the market and initiated measures to help enterprises access bank loans at reasonable interest rates in order to help them maintain and develop their trading and production activities.
Earlier this year, the central bank set a target of trying to cut the deposit interest rate by one point per quarter if the country's macro economic environment was favourable, said deputy PM.
Problems remain
Besides the above-said achievements, there are still problems that make us worried, the deputy PM concluded: "GDP growth in the first quarter of this year was only 4 per cent, far lower than the figures recorded in 2011 and 2010, which were 5.57 per cent and 5.84 per cent respectively".
"Eighteen out of the 32 main commodities of the industry posted declined growth," he stated.
Specifically, the industrial and construction sectors only posted a 2.94 per cent growth.
Lending interest rates remain too high, preventing businesses from accessing loans for production. The high input costs, poor consumption and high unsold inventory indexes have driven firms to reduce production, or even stop operation, dissolve, or declare bankruptcy, deputy PM Phuc told the meeting.
"More than 17,700 businesses countrywide have ceased operation or dissolved in the first four months of the year, which is a 9.5 per cent year-on-year increase," he said.
"Meanwhile, unsold inventory index recorded on April 1 in the processing and manufacturing sector rose 32.1 per cent against the same period last year," he added.
The government report also remarked that the country's production and business are facing difficulties, and "show signs of slow growth and deflation."
Agreeing with the deputy PM, Nguyen Van Giau, chairman of the NA Economic Committee stressed: "Given the current difficulties in the country's economy, it's hard for us to achieve the growth target of 6 or 6.5 per cent this year".
Giau said the industrial production index recorded in April only rose by 4.3 per cent, a three-year low, which acted as warning of the slowdown in production.
He also said that the deposit interest rate was from 14 per cent per year to only 12 per cent and this level was reasonable since it would still ensure the position of Vietnamese dong and therefore ensure the stability of the foreign exchange market.
He said a 1.71 per cent decrease in credit growth in the first four months was easy to understand in the context of curbing inflation. This year, it was expected that inflation would be brought down to below 10 per cent. If it reached 8 or 8.5 per cent, the deposit interest rate would be brought down 9 or 10 per cent, he said.
In previous years, credit growth had stood at very high levels, with an average increase of 34 per cent over the last 5 years, and 29 per cent over the last 10 years. However, this year's credit growth would be controlled at between 14 and 17 per cent to continue reigning in inflation and stabilising the macro economy.
Gov't to set measures to ease economic difficulties
In proposing solutions to the current issues, the government report suggested slashing lending interest rates, increasing businesses' access to bank loans, and deferring or exempting certain taxes.
The government also pledged to apply adequate methods to handle business debts, especially those with effective operations and potential for development.
Certain unreasonable barriers in investment will also be removed, while the complex administrative procedures are set for simplification.
The government will also focus on boosting domestic consumption to help reduce manufacturers' large unsold stocks.
Speaking at the meeting, Nguyen Van Binh, governor of the State Bank of Vietnam promised that deposit interest rates offered by commercial banks are likely to come down to between 9 and 10 per cent per annum by year end.
The central bank had previously slashed deposit interest rates according to the level of inflation in the country, he added.
"However, we are likely to have conditions to cut the deposit interest rate more quickly than predicted thanks to recent macro economic developments, particularly with regard to inflation," Binh said.
With the deposit interest rate of 9 or 10 per cent per annum, depositing dong at banks would continue to be an attractive investment channel if compared with other options like gold, foreign currencies and real estate, Binh said.