In the framework of an official visit to Vietnam, a high- ranking delegation from Singaporean Government led by Singaporean Prime Minister Lee Hsien Loong attended in an opening ceremony of Mapletree Business City (MBC).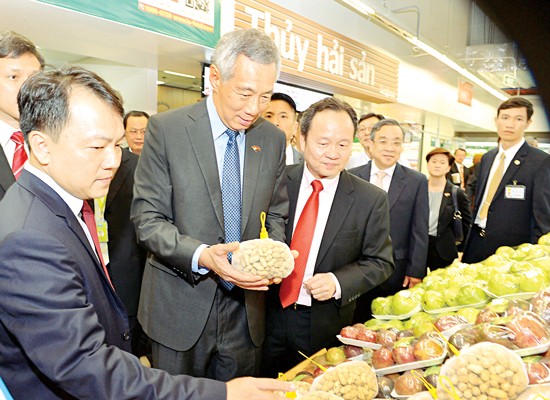 Singaporean Prime Minister Lee Hsien Loong visits food booths at SC VivoCity Center. (Photo: Viet Dung)
The green office building covers 4.4 hectares of land which is located in district 7 of Ho Chi Minh City, marking accomplishment of the second phase of the Saigon South Place Complex.
SC VivoCity Center is one of the most modern shopping and lifestyle destinations of the city and its first phase was put into operation with 64,250 square meters in September, 2015.
Mapletree is a leading real estate development, investment and capital management company of Singapore with good growth potentialities, owned and managed as the SGD 1 billion of office, retail, logistics, industrial, residential, serviced apartment and residential house properties and located in Hanoi, Binh Duong and Bac Ninh province.
On the occasion, the Singaporean PM and high- ranking delegation visited pavilions at SC VivoCity Shopping Mall.
On the same day, they continued touring to Hanoi capital.