The Singapore Cargo ship, the Sima Sapphire, will compensate each of the families of the victims who died in a collision off Vung Tau City in the southern province of Ba Ria-Vung Tau on September 16 with US$4,000 each.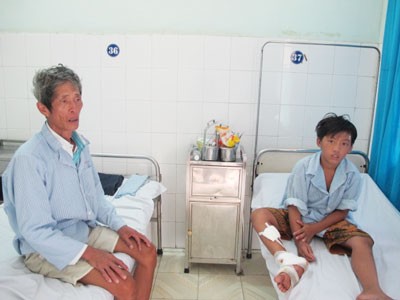 The eldest and youngest fishermen saved by the Singaporean container ship (Photo: SGGP)
Fishermen who were rescued in the accident will receive US$500 each, said Le Thanh Liem, a representative of the Singapore Cargo ship, in a meeting with functional departments of Tien Giang Province, the owner of the Vietnamese fishing boat and the collision victims on September 26.
The Sima Sapphire was departing from Cat Lai Port in Ho Chi Minh City for Malaysia when it collided with a fishing boat from the Mekong Delta Province of Tien Giang, about 50 nautical miles south of Vung Tau. The fishing boat turned upside down and all fishermen fell into the sea. The Singapore ship crew managed to save eight fishermen and fished out the body of one, soon after the calamity.
Rescue workers are continuing to search for the remains of five others missing, who could still be stuck inside the cabin.

Related article:

One dead, seven missing in boat collision with container ship