Singapore will soon further invest in cost-effective projects in Viet Nam, said visiting Senior Singaporean Minister Goh Chok Tong on Monday during a meeting with Vietnamese Prime Minister Nguyen Tan Dung.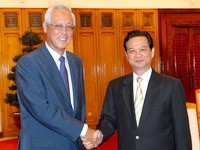 Prime Minister Nguyen Tan Dung shakes hands with visiting Singaporean Senior Minister Goh Chok Tong on Dec 10
At the meeting, PM Dung said the visit by Mr. Goh has demonstrated the fine relationship between the two countries.

For his part, Senior Minister Goh spoke highly of Viet Nam's socio-economic progress and said the two countries possess many opportunities for cooperation. He said Singapore is willing to share its experience in socio-economic development with Viet Nam.

PM Dung underlined the results of the two nations' economic cooperation over the years, including the increase of two-way trade from US$7.7 billion in 2006 to US$8 billion in 2007 and the record of US$9.7 billion in investment poured by Singaporean businesses into over 500 projects in Viet Nam.

Upon reviewing Singaporean projects implemented in Viet Nam, particularly the Viet Nam - Singapore Industrial Park scheduled to open December 11 in the northern province of Bac Ninh, the Singaporean former PM proposed many more Singaporean projects would be undertaken in Viet Nam.

"Singapore's projects have proven cost-effective and have contributed to Viet Nam's economic development," said PM Dung, adding that the Government would further facilitate Singaporean businesses here.

Viet Nam should upgrade infrastructure and develop science and technology to attract foreign investment while cooperating with other ASEAN countries, the Singaporean leader said.

The two leaders applauded the implementation of the Agreement on Viet Nam - Singapore Connectivity and agreed to expand cooperation to other fields, including seaports and storage, within the framework of the agreement.